Which Christmas Tree is for me?
Today is a guide about choosing your Christmas Tree.
1. Where do you want to get one?
do you want cut your own, do you want a pre-cut, or do you want a fake tree? Today I'm only going to be blogging about the different live trees.
2. Measure your space.
Measure the ceiling height and the width of your space. Most trees are cut to an 80% taper, so trees that are 10 feet tall will be 8 feet wide. Don't pull a Clark Griswold here.
3. Learn about the different types
doug fir
Douglas Fir: Boasting a pyramidal shape and blue to dark green needles, the doug fir dependable, long-lived cut tree.
Fraser Fir: A regal, richly fragrant native tree, iti has bicolor needles — deep green on top, silvery white below. Its generally slender profile suits small rooms.
Noble Fir: With its cool blue-green, well-spaced branches and densely set, upwardly curved needles. It's most often a cut tree, since it grows happily only in its Pacific Northwest home. This is my favorite type, but I am from the Pacific Northwest!
Scotch Pine: A classic conical shape and excellent needle retention, it is the most popular cut tree of the holidays.
Eastern White Pine: Soft green color, long needles, and rich fragrance make it worthy of yuletide focus. This pine produces long, decorative cones.
Virginia Pine: It is a first pick among Christmas trees for Southerners. It's also a good cut tree because, like all pines, it holds its needles well.
Grand Fir: With bicolor needles — deep green on top, white-striped underneath — it makes a rich foil for ornaments.
Eastern Red Cedar: Native to the eastern half of North America, it makes a great cut or living tree with homespun appeal and pungent fragrance.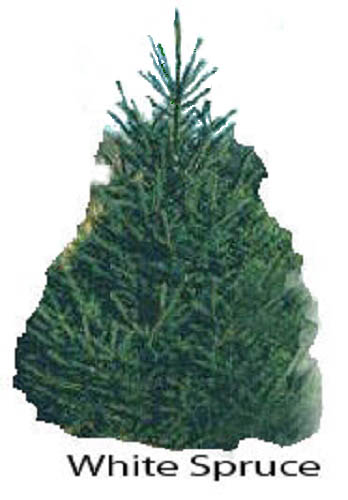 White Spruce: bluish-green short needles, that are stiff and are great for holding ornaments.




4. Look for freshness
While you are in front of your dream tree, before you decide to take home, make sure that it is fresh. Here's a quick and easy test: run a branch through your enclosed hand. Needles should not come off easily. If they do, choose another one! Also look for excessive needle loss, musty smell, needle pliability: if the tree has 1 or all of these things, move on!
5.Don't forget your supplies!
Bring rope to tie your tree down. If you want to a you-cut farm, don't forget your saw! Have your stand ready when you get home. A flashlight might be useful too.
6. Keep your tree alive!
Here's a link to tips on how to keep your tree alive so it doesn't look sad like Charlie Brown's tree!
I hope you enjoyed my Christmas tree guide. When I was 2 years old, I was pictured on the front page Thanksgiving weekend running through a Christmas tree farm. I grew up in the Christmas tree growing states (uh, yeah, Washington is the Evergreen state and Oregon has a Doug Fir on its license plate!)
My information was taken from the National Christmas Tree Association and BHG.
I've linked up with The Scoop! Visit Confessions of a Plate Addict blog,Tablescape Thursday at 'Between Naps on the Porch', Wow us Wednesdays! at Savvy Southern Style, Open House Party at no minimalist here,Feathered Nest Fridayand Autumn Abounds Party at French Country Cottage, Seasonal Sundays & Oh the places I have been at The Tablescaper, and a stroll through life inspire me tuesday's.