After staring at boring cream colored painted walls for years I've been dreaming up a change… except what I'm dreaming of is WAY over budget!  That's why it's called dreaming.
I am absolutely in love with the fine hand-painted wallpapers of Gracie, de Gournay, and Paul Montgomery.
"Chinese Scenic" by Gracie
They produce different types of wallpapers: hand painted silk wall coverings and tea papers.
de Gournay
The companies take their inspiration from wallpapers from the late 1600s-1800s.
Time to start drooling over these silk wallpapers…
"Abbortsford" by de Gournay
I just love the green color of the next room… I think it just goes so well with mahogany.
"Askew" by de Gournay in olive williamsburg colorwave
"Badminton" in pink colorwave by de Gournay
"Badminton" again, this time in green by de Gournay
I just love the color design of this next one… so soothing…
"Earhlam" in blue by de Gournay
"Earlham" again, in green, by de Gournay
"Dunmore" by Paul Montgomery
"Callaway" by Paul Montgomery
The paper below is a tea paper. If you look closely you will notice it is made up of much smaller panels. This is a technique developed in the 1700s.
paper by Gracie
David Easton's apartment in NYC, wallpaper by Gracie
"Kew Garden" by Paul Montgomery
Pricing… they start at about $1000 per panel. Each panel is about 3 feet by 8 feet.
A company has recently come out with digital chinoserie wallpapers. They go for about $200/panel.
The collection is from Et Cie by Designer Wallcoverings
"The Rockefeller"
The one above, "The Rockefeller" looks EXACTLY like "Kew Garden" by Paul Montgomery. (scroll up). When I was saving images at first I thought I saved the same one twice!  I guess Montgomery designed these digital wallpapers then.
The one below looks like "Callaway" by Montgomery. (scroll up 4 images to compare!)
"White House" by Et Cie
The whole digital set about would cost about $1000 vs 1 panel for $1000.
Let's say you still want the real thing… hand painted silk wallpaper. Don't blame you, I do too!
What you could do is just purchase 1 panel. It gets the look for a cheaper price.  It's sort of settling, but at least it's the real deal!
I have the same lamp as in this photo. Now I just need a framed piece of wallpaper!
Then I thought, you could wallpaper the smallest room in the house. The powder room!
On second thought, someone might splash water on the wallpaper… and it'd be ruined!
On third thought, why should the powder room have the most expensive wall covering?
Then I found this… a chinoiserie mosaic that looks like wallpaper. No idea how much it costs! Probably the same amount as the wallpaper… but at least water won't ruin it!
Or you could splish splash in the tub and get new wallpaper when you grew tired of it.
from de Gournay
That should do it today.  Are you inspired? Time to wipe that drool off the desk now!
Did you like this post? Check out my other post about Chinoiserie – How to Add Chinoiserie Decor to your Home
 If you loved this post, be sure to check out my new chinoiserie powder room!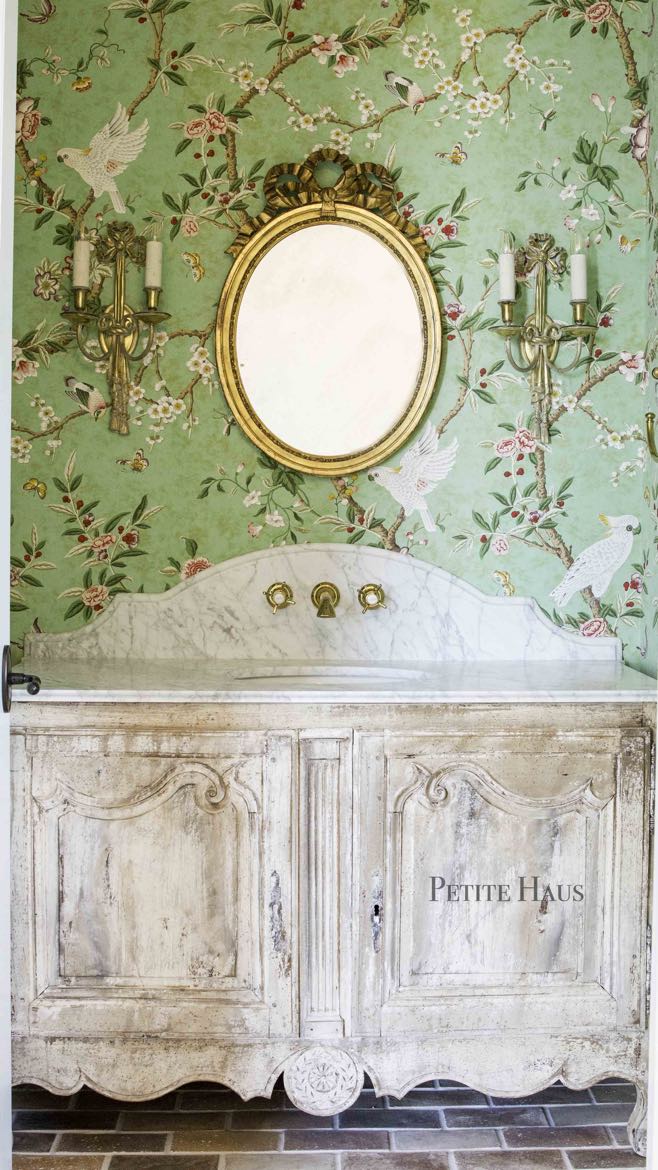 See my other Chinoiserie inspired posts:
Chinoiserie Wallpapers for Less!
French Chinoiserie Style and How to Add Chinoiserie to Your Home