Ever since watching one of my favorite tv shows, Unique Sweets, I have wanted to visit Salt & Straw Ice Creamery. Only problem was that they are only located in Portland, Oregon!!
On my Northwest Summer trip that I recently got back from, I stopped by Salt & Straw. First off, what a clever name. Like how ice cream used to be made: with salt and straw!
There was a long line out the door but it seemed to move pretty quickly. They let you sample several flavors, which is mainly why it takes so long.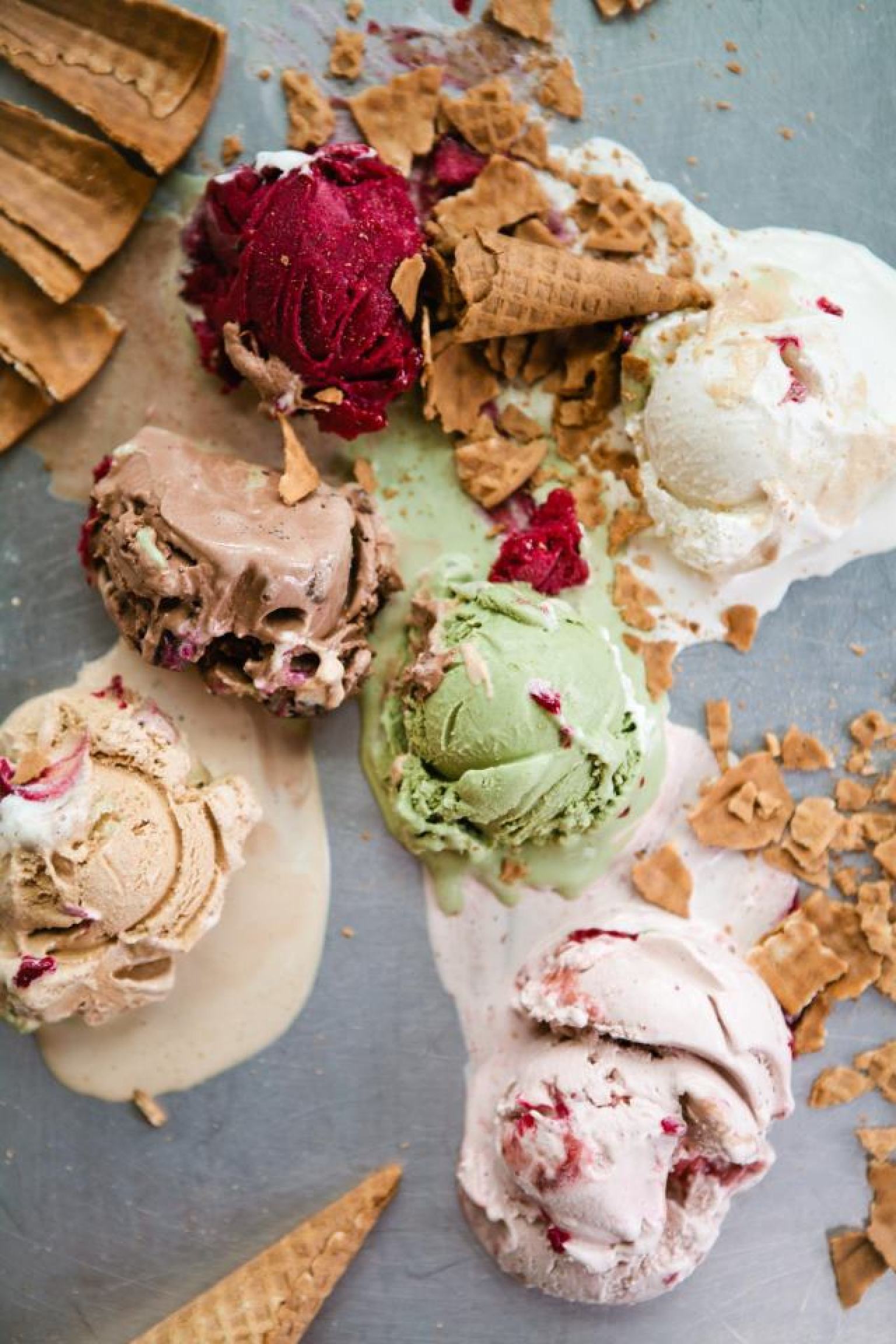 image from huffington post
What's so special about Salt & Straw's ice cream?! Their unique flavors!
They have flavors like: Coconut with salted caramel bars. Pear with blue cheese. Coffee and bourbon. Cucumber and raspberry sorbet.
inside the store image source
We tried a total of three flavors.
almond brittle with salted ganache
Grandma Malek's Almond Brittle with Salted Ganache
I felt like I was a eating a candy bar with ice cream inside. The salted ganache was interesting. It helped overcome with sweetness of the almond brittle and the ice cream. But I couldn't finish it all. (Usually I can finish ice cream no-problemo… don't know if this is a plus or a minus!).
Sea Salt Ice cream with caramel ribbon
Sea Salt Ice Cream with Caramel Ribbon
This ice cream actually tasted like sea salt. The caramel is not salted. The ice cream has a very nice smooth texture. While the flavor combination was good, I felt like I was eating a savory dessert, which isn't quite what I was looking for.
Birthday cakes and blackberries
Birthday Cakes and Blackberries
This one was my favorite. It was a frosting flavored ice cream with chunks of what seemed like sugar cookies in the ice cream, with blackberry swirls inside. Loved the blackberry swirls. This ice cream was very very sweet. I think either I need a smaller portion OR less cookie swirled inside.
Final Words
I felt like a lot of these ice cream flavors were more savory in nature. Like more of an after dinner dessert. They weren't as refreshing as other mid-afternoon ice creams because of the saltiness and then also the extreme sweetness. I hate to say it, but sometimes I just like plain ol' mint chocolate chip or vanilla. There's a reason why they are bestsellers in America. I think next time I will actually go for their "Double Fold Singing Dog Vanilla". I would give them another try and recommend at least trying them once.
Written at http://peoniesandorangeblossoms.blogspot.com