Today I'm sharing with you my tablesetting I made for Oktoberfest! Oktoberfest starts on September 20 this year. Last year, I had the privilege to visit Germany during the start of the Oktoberfest. What a sight to see!
I used my Bavarian nutcrackers in the center. From left to right: an Oktoberfest salesman, a wine maker, and the Bavarian dressed up in full regalia.
Oktoberfest-themed table
The Oktoberfest themed nutcracker is seen closer here. I printed off the Lebkuchenherzen (the gingerbread hearts) and placed them on top of each plate.
Oktoberfest themed party table setting
If you've been to Germany you would've noticed these little gingerbread hearts everywhere: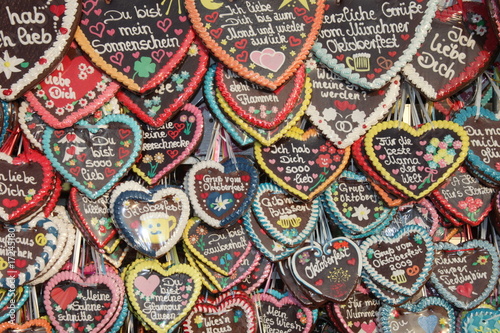 lebkuchenherzen
Now looking from the other side… another nutcracker comes into view. You will also noticed scattered around the table I have little steins.
The steins are vintage. Most people pick them up as souvenirs from their travels. I picked mine up at an estate sale. Ironically, I've been to all the places that are featured on the little steins… and I didn't have to lug them back in my suitcase and paid a fraction of the price! I call that a win-win!
close up
The official colors of Oktoberfest are blue and white. However, since it is also a harvest festival, I thought using orange looked good and it compliments the blue.
Oktoberfest themed party table setting
One last look!
If you are interested in printing off your own Lebkuchenherzen for your own party, here are the links:
I hope you enjoyed my Oktoberfest themed table! Be sure to check out my other posts about how to throw a great Oktoberfest party.
Bonus – last year when I was at a cow-festival in Austria (basically an Oktoberfest type festival), I took a picture of these cute little kids. Don't they look straight out of a postcard?
postcard children
Written at http://peoniesandorangeblossoms.blogspot.com
Linking up with these fabulous link parties: The Scoop!, Inspire Me Tuesday, Wow us Wednesdays! What's it Wednesdays, Centerpiece Wednesdays, Creative Ways,Tablescape Thursday, Treasure Hunt Thursday, Home Sweet Home , Feathered Nest Fridays,G'day Saturdays,