As I start to think about all of the holiday baking that lies ahead, I find myself daydreaming about my trip to Paris next Spring.
Yes! I'm headed to Paris! Yippeeeeeeeeeeeee!! I am so very excited to head to my favorite city in the whole world. The last time I was there was in 2003. Practically pre-internet days, especially in Europe. This time though, I am armed with the knowledge of the internet and have added many little shops to my to do list that I previously didn't know about!
One store I'm particularly excited to go to is E. Dehillerin in Paris. It's a store that famously sold Julia Child her copper pans. The name is pronounced "Uh-duh-il'rin"
The shop is the oldest cooking shop in Paris… over 200 years old! They are famous for their large bounty of products from Mauviel copper to knives to pans to every type of mold ever needed!
They have things like… a butter curler! TSA doesn't approve but I do!
I think I will be picking up a madeleine pan here so that I may start my madeleine baking journey next year. I think I've mastered the macaron. On to something new…
madeleine pan from France j'adore… source
Don't you just want to take all of this home?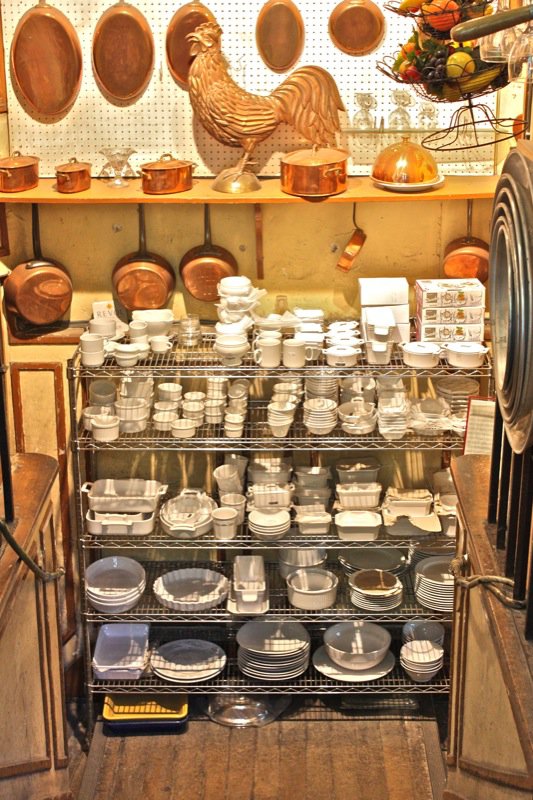 love this copper Coq

source
A copper tatin mold for the perfect tarte tatin
from their website
I will also need to pick up a few of these little pans so that I can bake the remaining recipes in Laduree's Sweet book…

tart molds, loaf pans, financier molds!
source
Maybe some silicone molds… At least I know these could go on the plane!

Source
E. Dehillerin is at 18 rue Coquillère, 75001 Paris … which is only a 10 minute walk from where we'll be staying. How convenient!
I thought this blog post here had a nice tour of the store.
Have you been to E. Dehillerin in Paris? What did you buy?! Leave me a comment, I have some planning to do!
If you've missed a Paris post, catch them ALL RIGHT HERE on my new Paris Trip Round-Up!
Written at http://peoniesandorangeblossoms.blogspot.com