My true love gave to me…
11 piped Bûche de Noël!  Imagine eleven bakers piping these yule logs together!
Okay, a bit of a stretch from the song, but I needed to figure out a way to add my annual Bûche de Noël post! So here it is!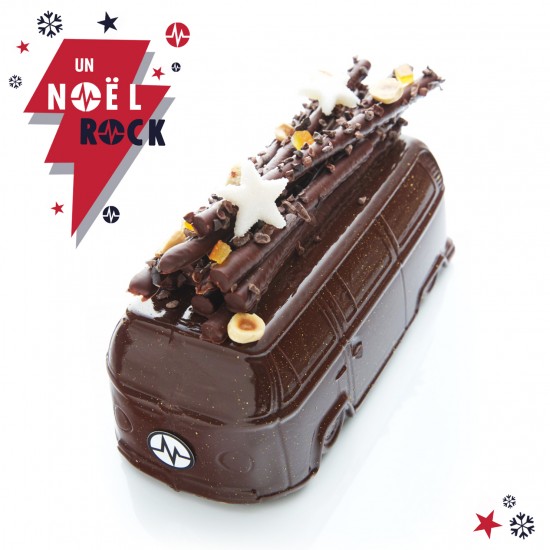 dark chocolate, hazelnut gianduja, cocoa nib and fleur de sel.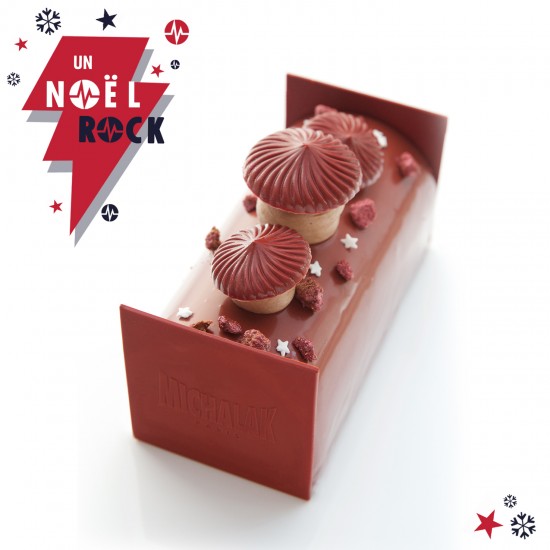 crispy base gianduja, brown biscuit without flour associated with a mousse with chestnuts, confit and creamy blackcurrant.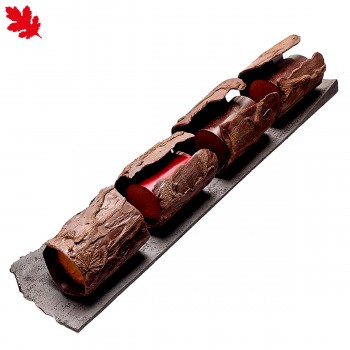 Viennese chocolate cake, dark chocolate and raspberry Chantilly cream, raspberry compote, chocolate shortbread biscuits with fleur de sel. from Pierre Herme.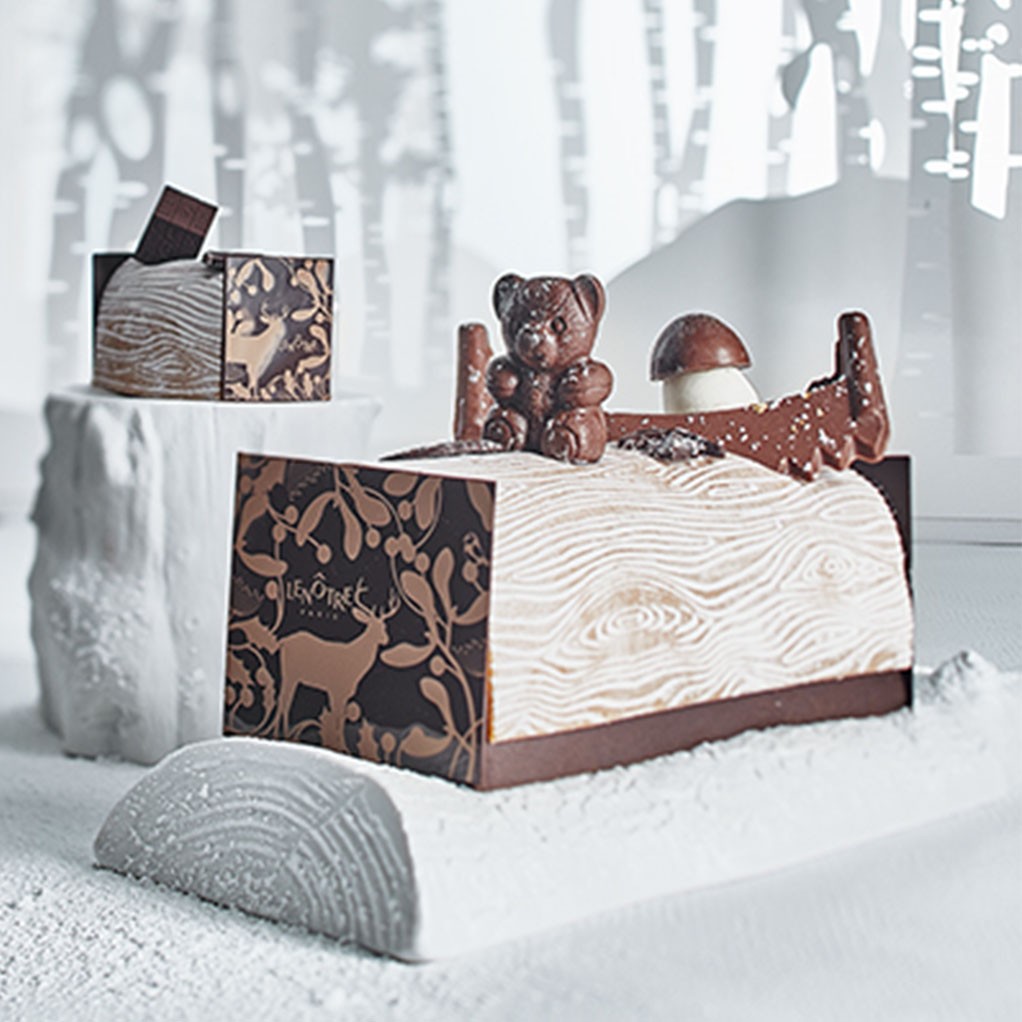 A chocolate mousse associated with a creamy hazel nut and a dacquoise nutty almond on a crispy dried fruit. Covered with almond paste. from Lenotre.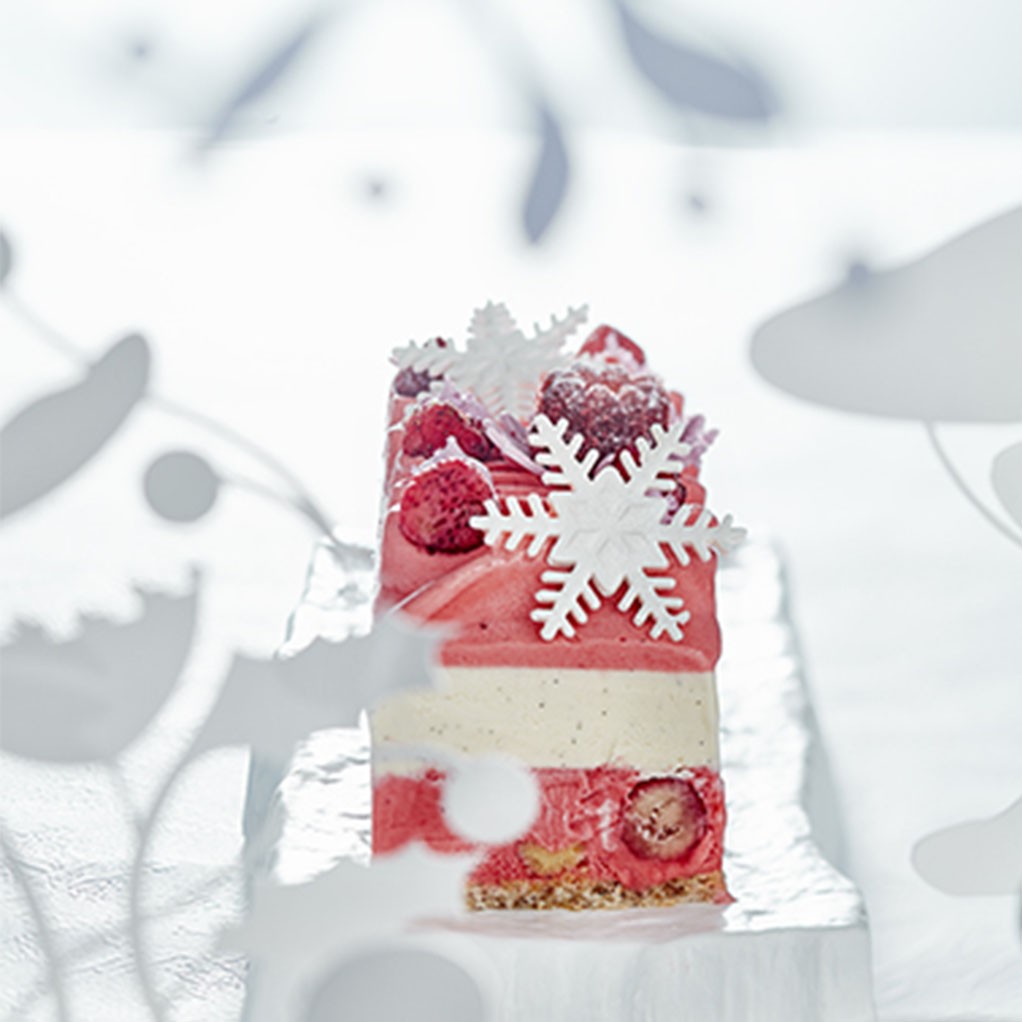 The inescapable combination of Bourbon vanilla ice cream and strawberry sorbet combined with wild strawberry inclusions, on a delicate dacquoise almond hazelnut.

Decorated with a wave of strawberry sorbet, fruit paste in the shape of mini kouglof and white flakes. from Lenotre.


A pure creation of Chefs who celebrate in beauty and refinement the 60 years of the House: as a
tribute to the heritage of the pastry tradition put at the service of creativity and taste.
It is the image of an immaculate forest populated by graceful animals and imposes itself as an invitation
to greed and sharing. Its creators wanted it both magical and friendly, reconnecting with
the tastes of childhood in all modernity. No doubt it will arouse the wonder of children
as much as the visual pleasure and taste of adults.

A decor inspired by a paper-cut artist, Marianne Guély, who also signs the box that contains it. Made of nine diadems in white chocolate (with the image of the squirrel, the wolf, the deer, the tit, etc.), it required the exclusive development of a secret technique.

Then, thanks to the irresistible alliance of textures that she hides in a hazelnut muslin,
rolls of cigarette paste form the base. Covered with milk chocolate they envelop a
Hazelnut flaky praline, crushed to obtain a perfect crisp in contrast
with the cream. At the heart of the log, a dacquoise hazelnut roll, a vanilla bavaroise
Bourbon, a ribbon of hazelnut caramel with fleur de sel ...
Finally, pastry chefs had a happy idea to perfect the moment of dessert:
fans can choose to accompany their share of a rum cream served separately while the youngest (and all those who prefer!) will stay on the pure delicacy of the cake alone. from Lenotre.
 A sweet chestnut parfait combined with strawberries, caramelized Italian meringue decorated with chocolate flames. from Jean Paul Hevin. 
 
This log is made from vanilla, juniper berry cream, and genoa bread soaked with light lemon syrup, a kumquat compote and crispy almond biscuit. From Fauchon.

This log from Dalloyau has a base of lime infused jam, almond meringue.  A moist financier biscuit sits in the center with a mango passion fruit compote and Madagascar vanilla cream.

A pear sorbet with grand cru chocolate ice cream, topped with macaroon mushrooms, grounded cocoa and candied pear. From Nicholas Bernarde.


The onion domes of the Russian churches are turned into meringues filled with lemon curd.  It sits atop an orange creme brûlée biscuit with crispy puffed rice. From L'hotel du Collectionneur.

If you have missed any of the 12 Days of Christmas, click here.

SaveSaveSaveSaveSaveSave
SaveSave