I love decorating Christmas trees and over the years I have learned some tricks that help your tree look its best and it will look like a professional decorated it!
Now, let me start, there is no "wrong" way to decorate your tree, but this post is about some tricks that the stores and pros use!
Think of a theme or color scheme for your tree
First I think it is helpful to think of your theme for your tree.  It can be just as simple as choosing a color scheme for the tree.  Not all of your ornaments need to follow the theme, but it is nice to have an overall cohesive look.
On this flocked tree, I like how red ornaments pop against the white flocked tree, so my color scheme is built around some red ornaments.  Now, not all of my ornaments on this tree are red – many are not, but your eye will catch the red ones.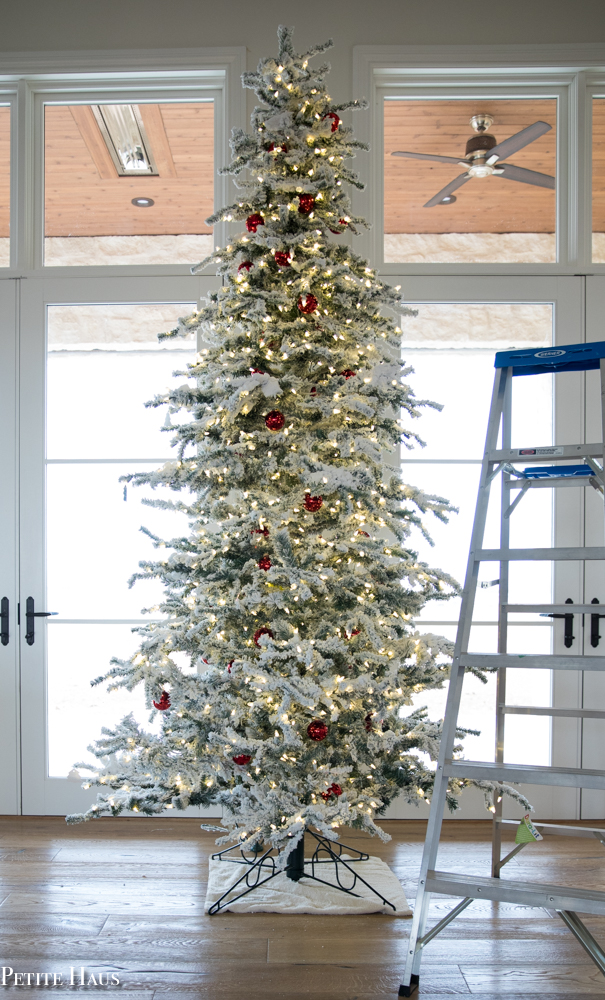 Lots of Lights
If you do not have a prelit faux tree and have a real tree, be sure to add lots of lights.  One strand of lights for every foot of tree at a minimum.  Wind your lights back and forth, tracing the branches to create the best look.
Fluff the Branches
If you have a faux tree, make sure you fluff every branch on the tree. They do get smashed in the box.  I recommend also decorating the tree with its lights on!
Use Ornaments to Hide the Tree Trunk
With the ornaments that serve as the base for your color scheme, place them deeper into the tree to obscure the tree trunk.  They are great for those places where there isn't a nice branch to hide the ugly trunk.  Make sure you place them deep in the tree – because we are going to be hanging more ornaments! These are your filler ornaments – several dozen will do!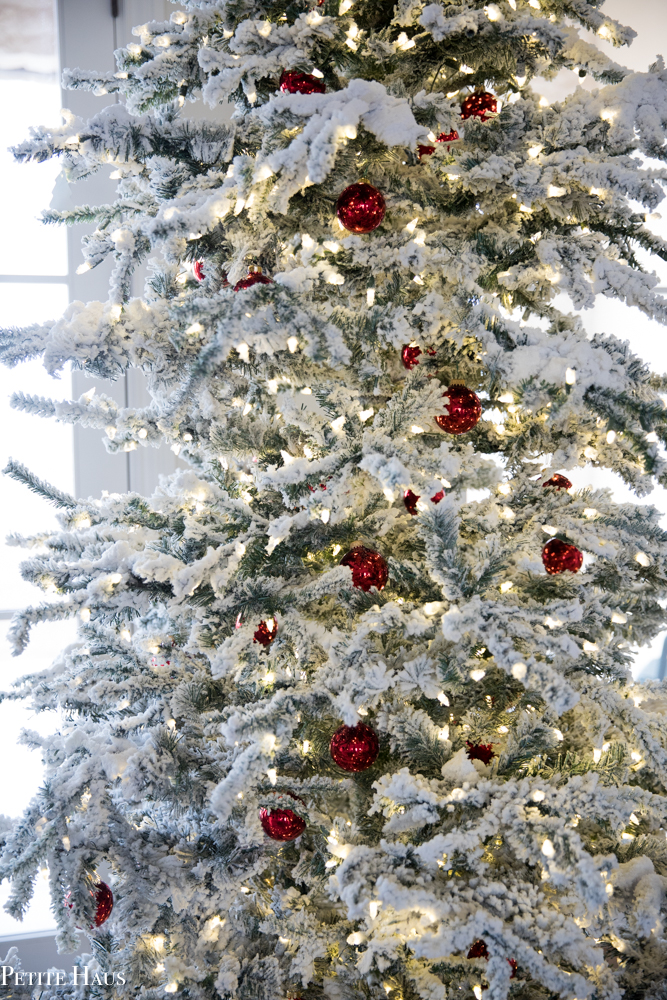 Add Florals and Picks
If desired, add in additional florals and picks.  For my main tree I did not add additional florals, but for my woodland tree I did.  No need to wire them in unless they are heavy – just simply add it to the tree on top of the branches.  Use a maximum of three different types.  Below there are two types of pinecone branches and beaded fruit.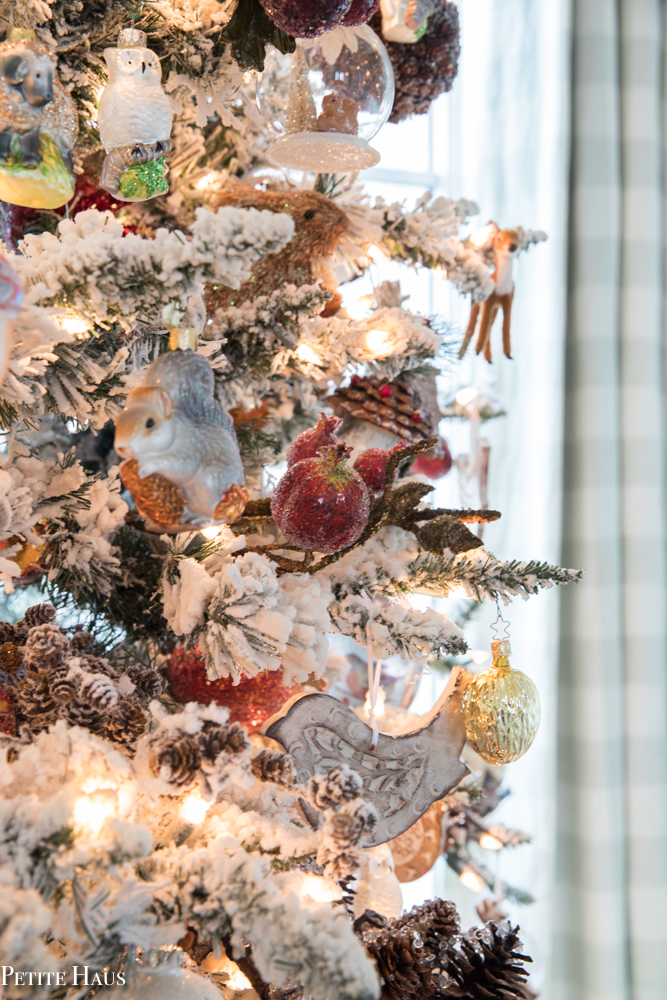 Layer Your Ornaments
Next, take your larger ornaments and start putting them in some of the larger "holes" in the tree.  I would put them mid-way onto the branch, not so deep in the tree as the red balls as above.  It helps to separate your ornaments by size before putting them on your tree so you know what you have!
I work my way to the branch tips, hanging the ornaments biggest to smallest.  You want your smaller ornaments at the tips of the branches because one, they are lightweight, and two, you want to be able to see them!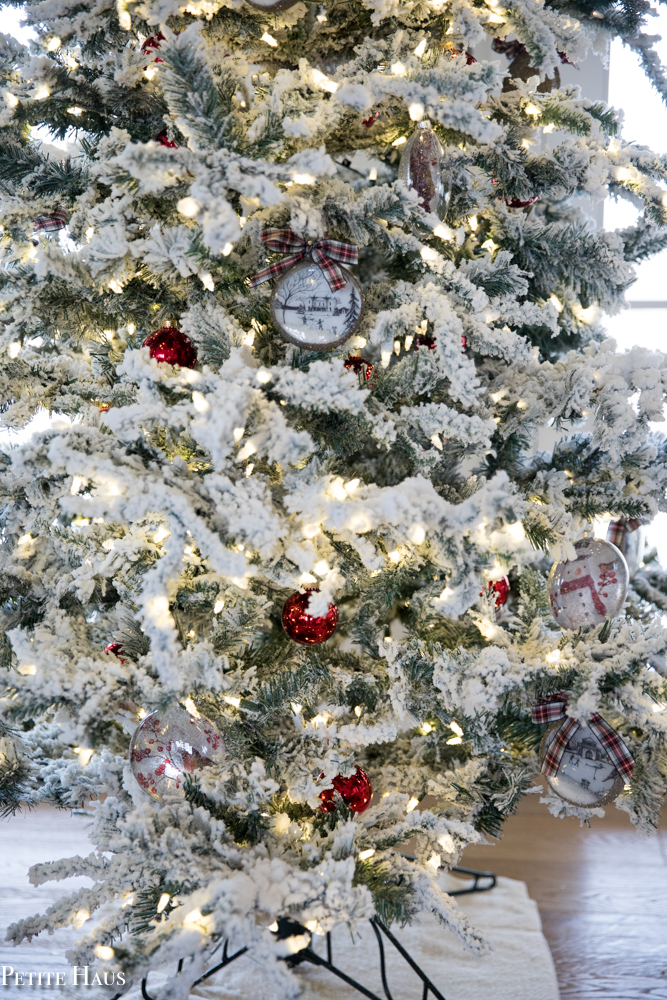 Add Large Objects
I recommend also adding a few items in that aren't ornaments that are larger.  This creates more visual interest.  For instance, I added some nests below and also the white owl.  If you notice, this is a trick that many pros use – adding non-ornaments to their trees!  Take a note when you are looking in the stores and magazines and you will start to notice this trick of theirs!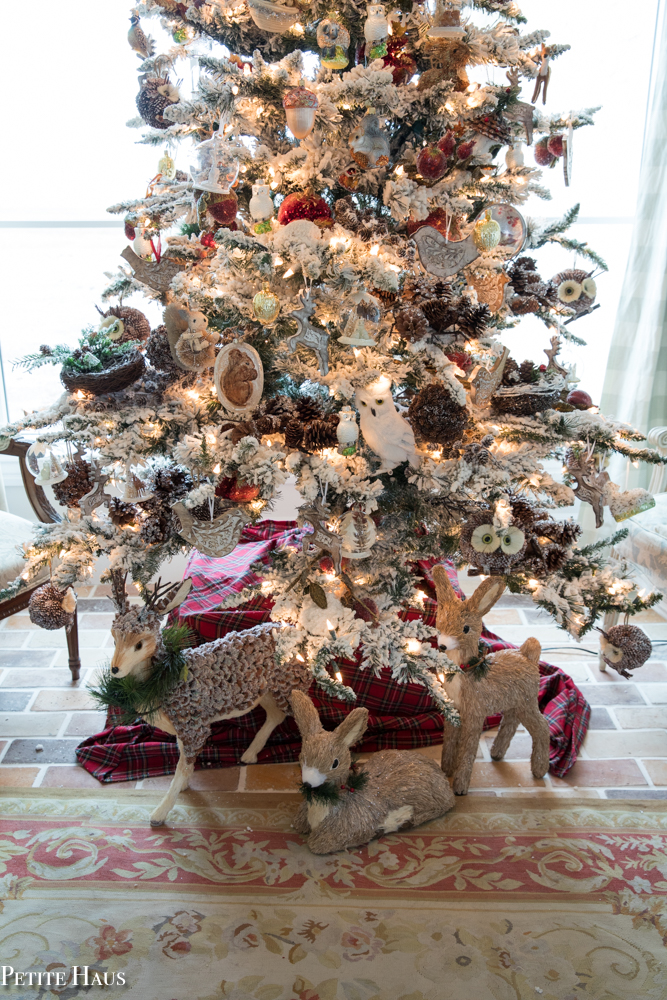 Hanging your Ornaments 
Ornaments look their best when they aren't hanging for miles from the branch.  You want to secure them as close to the branch as possible.  In my example below, you can see the top picture that the teacher ornament looks better secured closer to the branch than in the bottom picture.
If you secure your ornaments closer to the branches it does several things – one, it allows you to position the ornament better for a more desirable look (like in the bottom picture, he kept twisting and looking the wrong way and I fiddled with him for several minutes!). Two, it is more secure this way and less likely to break or get damaged.  Three, often the strings that come with the ornaments are ugly and this hides them better.
When securing your ornaments with hooks, be sure to twist the hook all the way around the branch.  If you have animals or small children, this will help them stay more secure!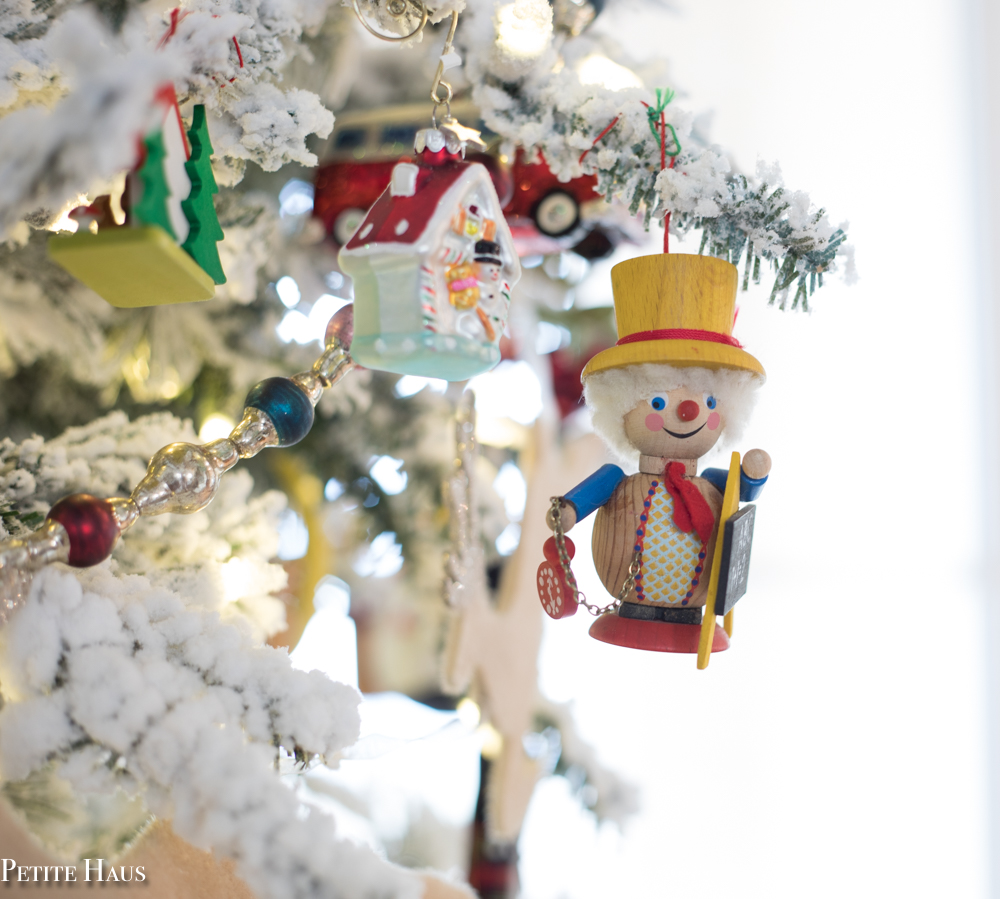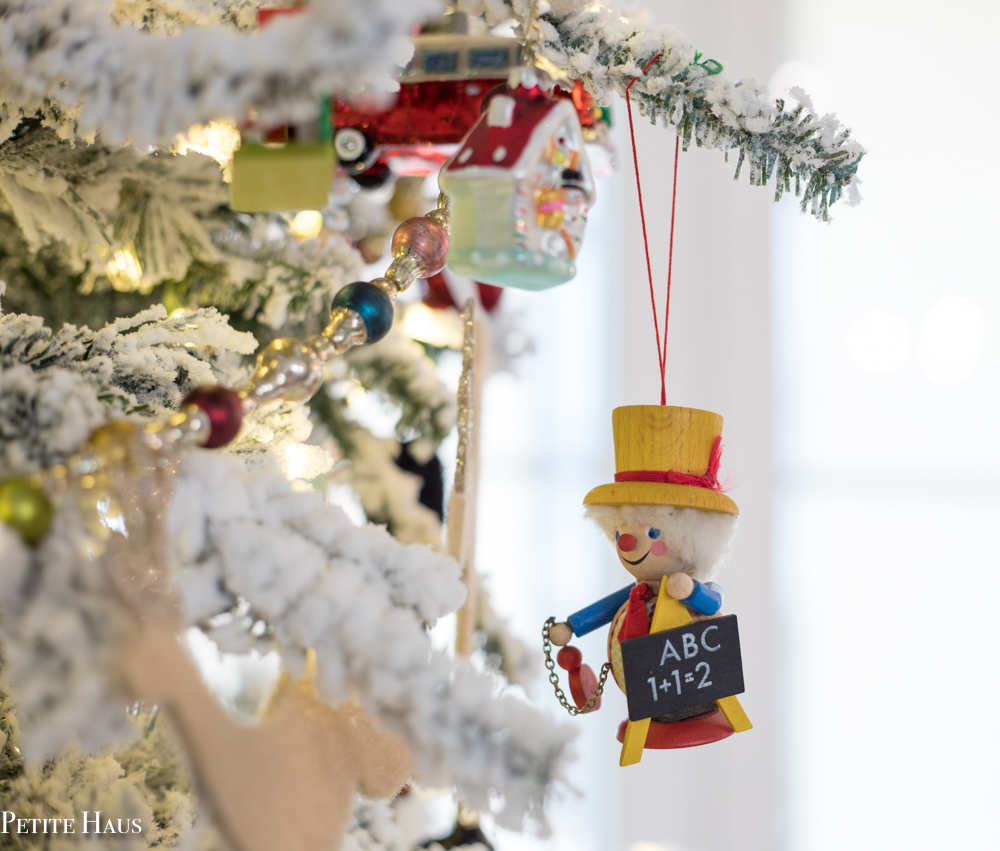 Use Garland or Ribbon
Garland is the final crowning touch to any tree.  I actually have three types of garland on this tree, can you spot it?  This will help also with your overall tree theme and bring together the entire look.  Some recommend putting garland on first and then the ornaments – I put most of my ornaments on, then *very carefully* hang the garland, and then add a few smaller ornaments at the end.  Ribbon achieves a similar look.
http://www.petitehaus.com/wp-admin/post.php?post=972&action=edit#edit_timestamp
Now, time to sit back and admire your work.
Below is my traditional red tree.  I need to add more to it – it is my first year with this tree.  This one also contains my sentimental ornaments!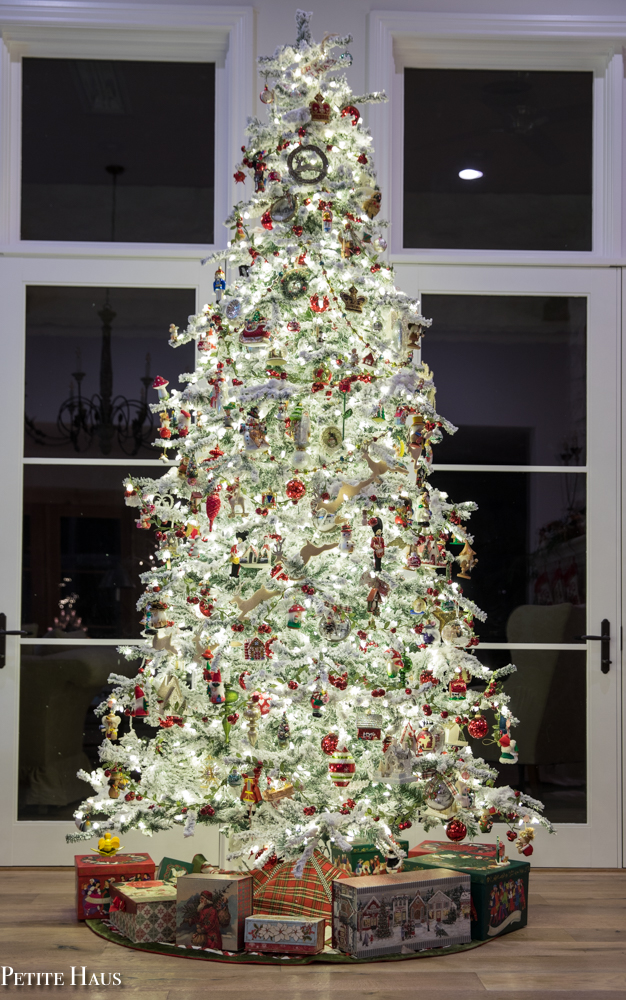 Below is my woodland tree – this is my favorite tree! This tree is the more perfectly themed tree and I think that is why it is everyone else's favorite tree as well.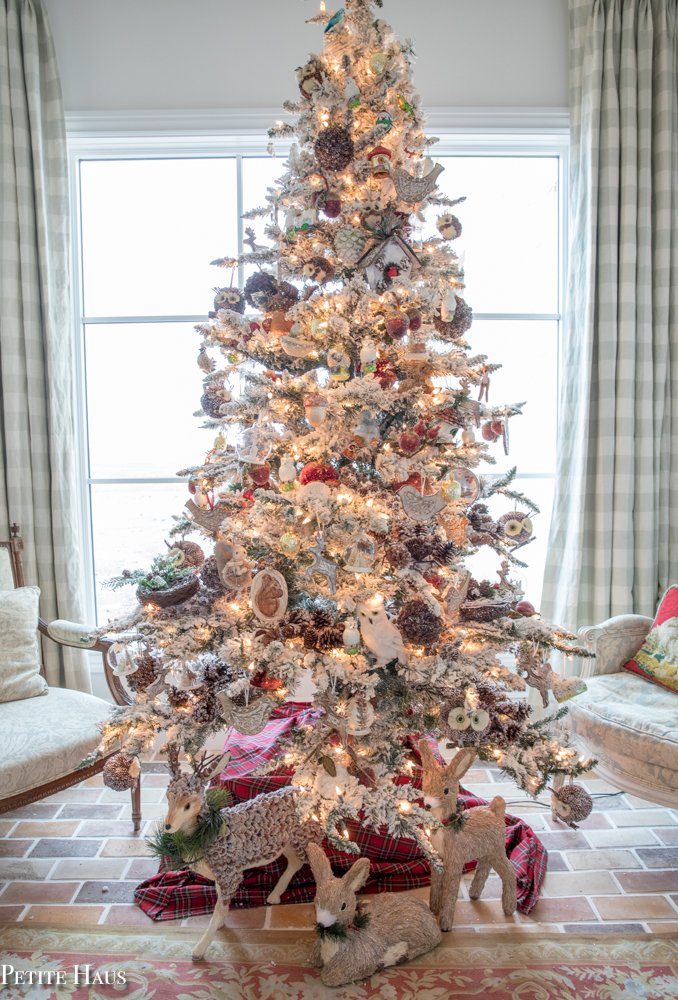 SaveSaveSaveSave
SaveSave
SaveSave
SaveSave
SaveSave