As I wrote about my French farmhouse bathroom with cement tiles earlier this week, I thought I would continue on the cement tile theme for today!
The first modern cement tiles were made in the 1850s in France. It spread to Spain, Cuba and Latina America.  There are older examples but this is the time period that it started to gain popularity.
Below, a bathroom done in the popular Tulum pattern from Cement tile shop.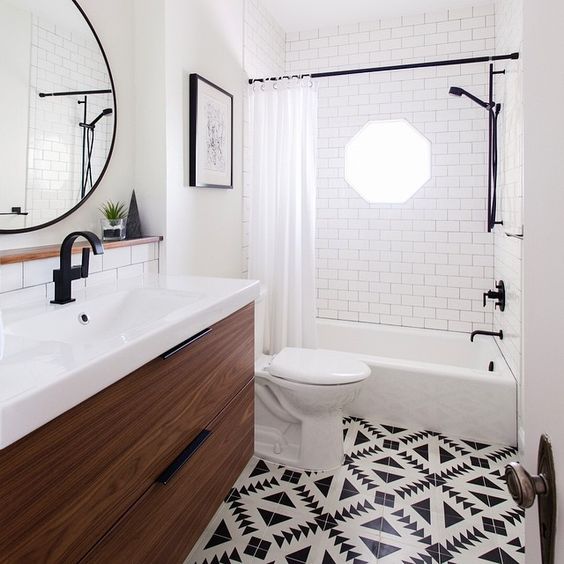 French cement tile from the 1800s, via My French Country Home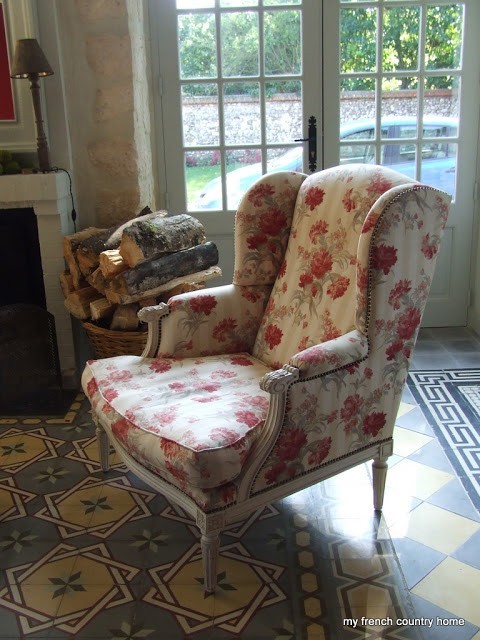 Saigon Post Office, 1800s original tile via Via Lagoon Tile.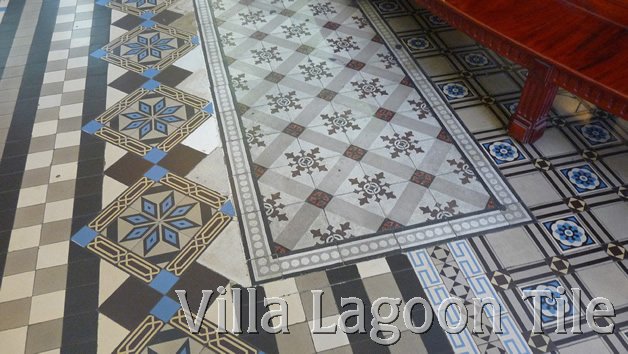 Cement tiles are handmade and are made of 3 layers that are hydraulically pressed together.  You have to seal the tile before and after grouting.
Bathrooms
The design on the tile below is extremely popular.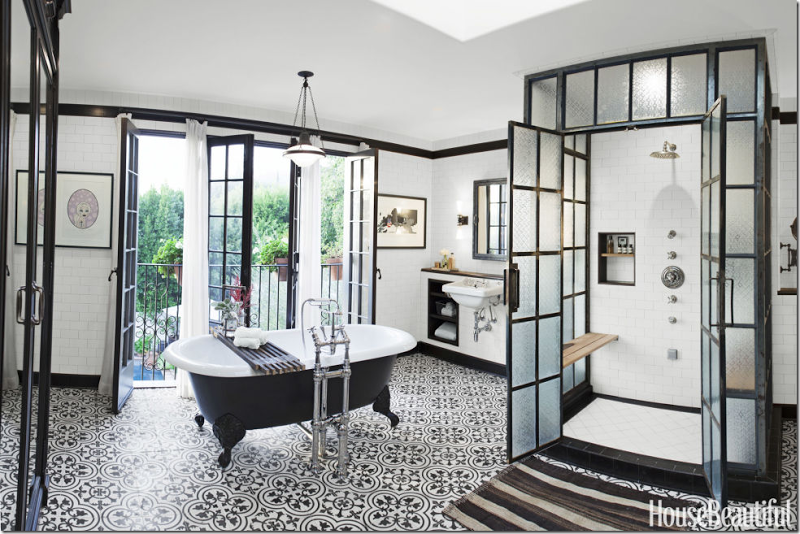 Love how this design continued into the shower.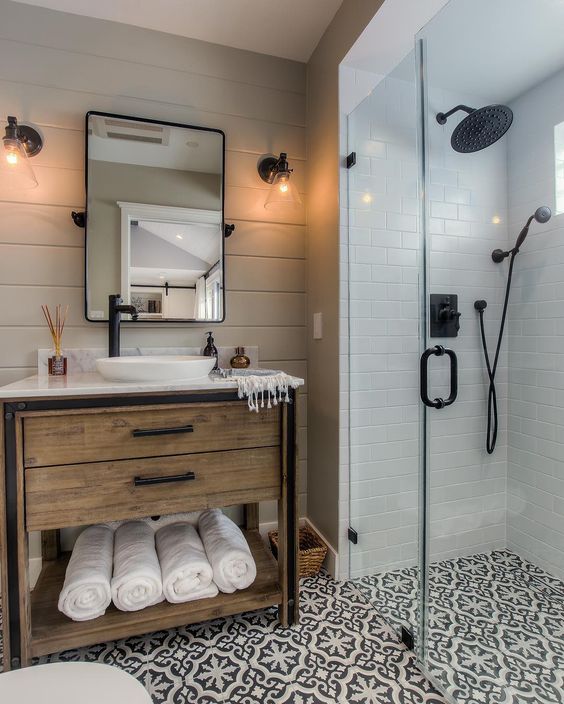 Love the different colors in this tile below.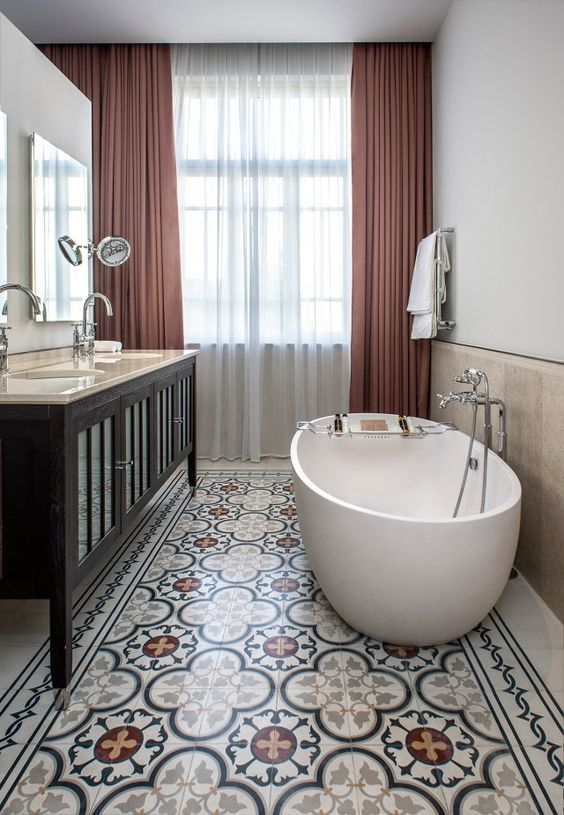 Below is my French farmhouse bathroom.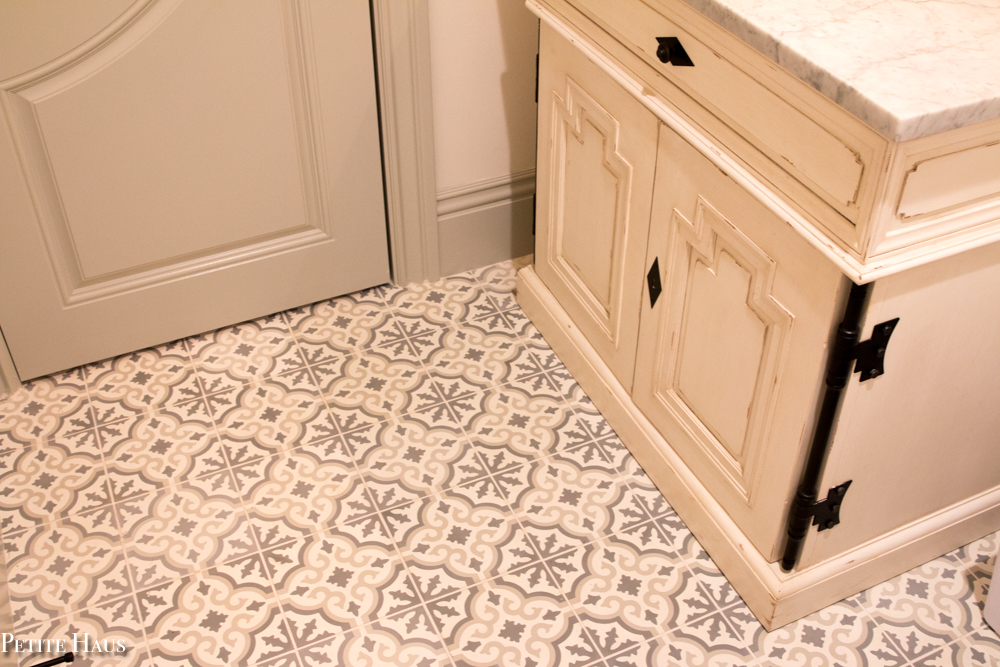 For you all-neutral fans, this bathroom below is up your alley!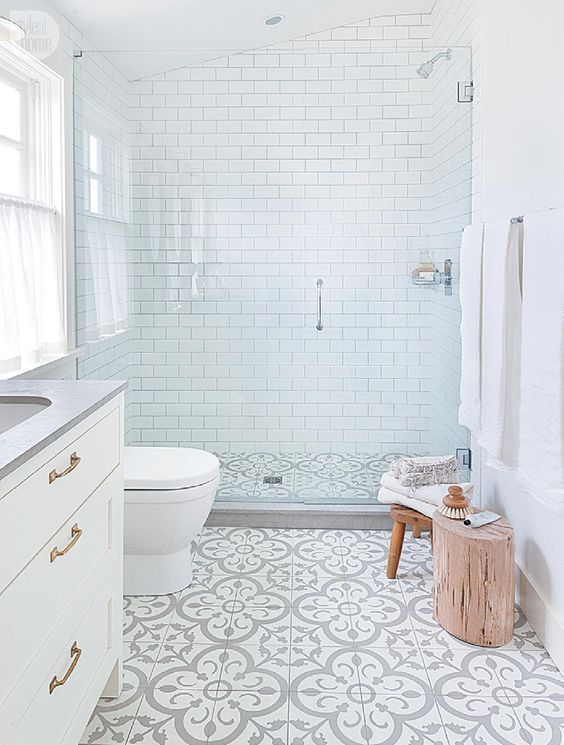 If I hadn't chosen the tile that I did for my bathroom, I would've gone with the tumbling blocks pattern below.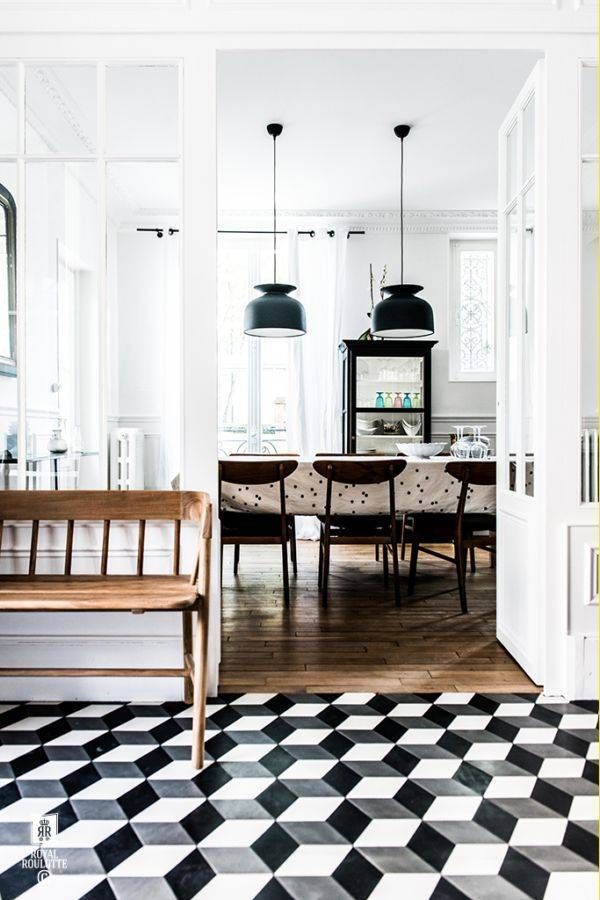 Kitchens
The tile is very popular in kitchens as well. It is commonly used as a backsplash but also as flooring.  I would not do it as both, however! Choose one or the other!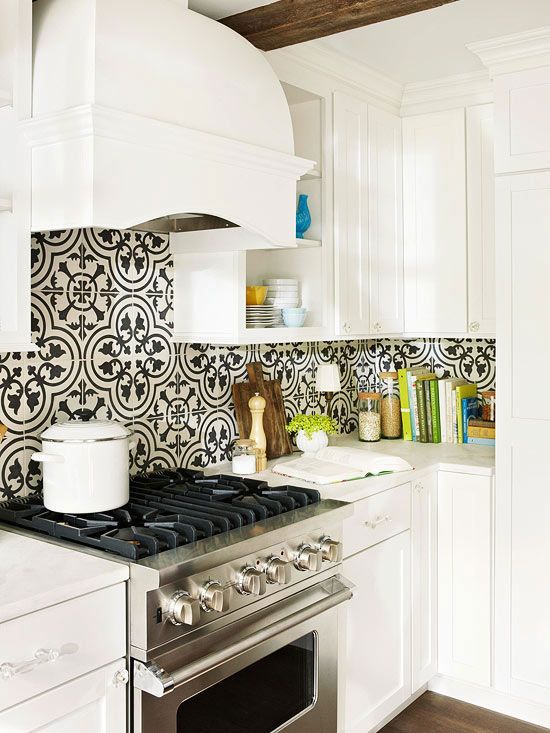 The dandelion pattern below is very popular too!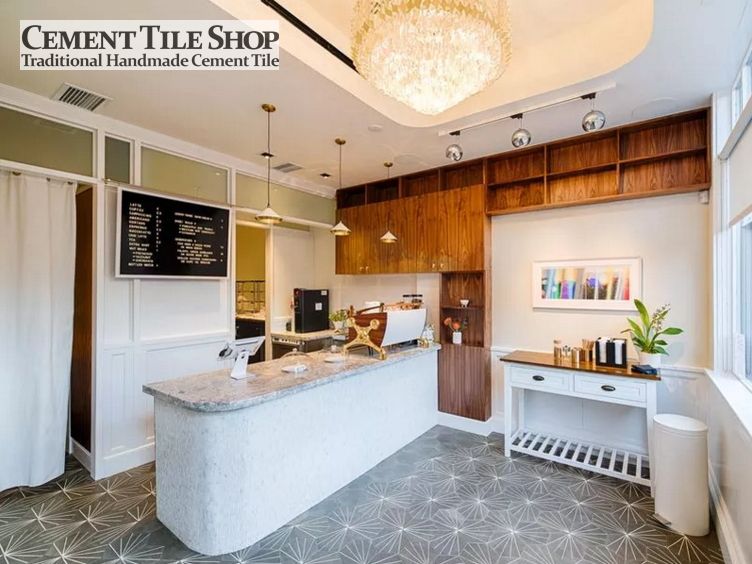 You can pick colorful tiles to go in your kitchen! Love the pops of red here!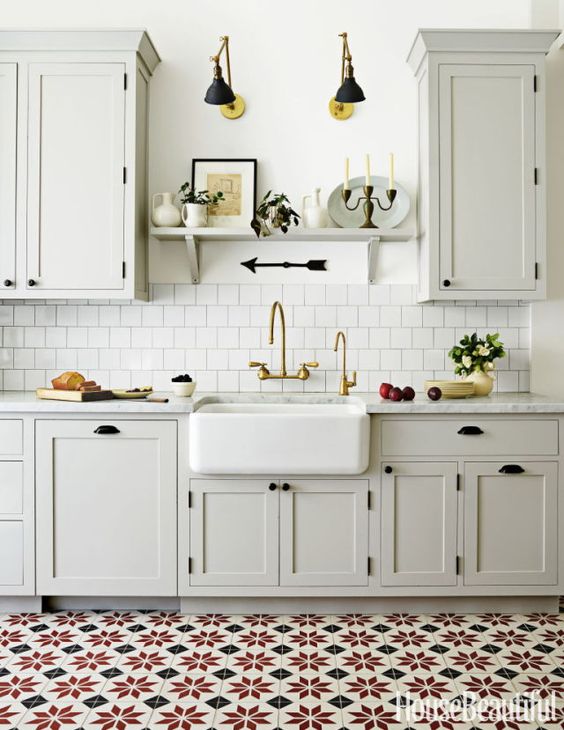 This kitchen below is so beautiful! i love the backsplash and the refrigerator! The cement tiles work well with traditional kitchens.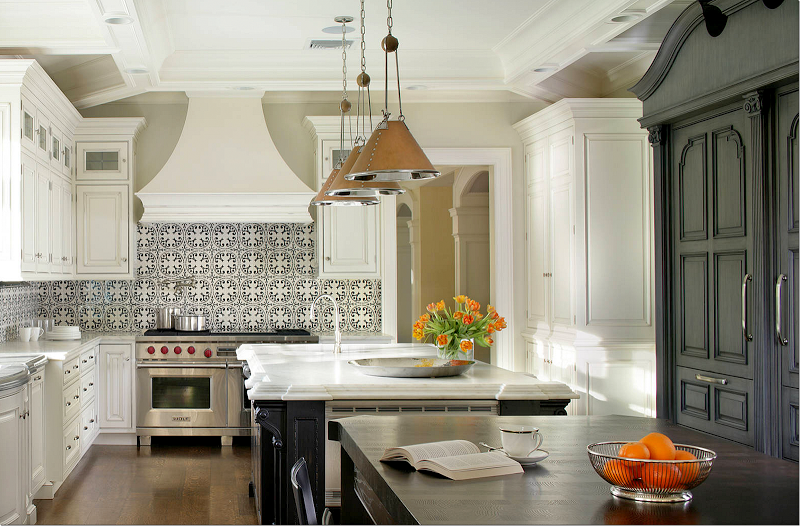 And they work with more modern kitchens below!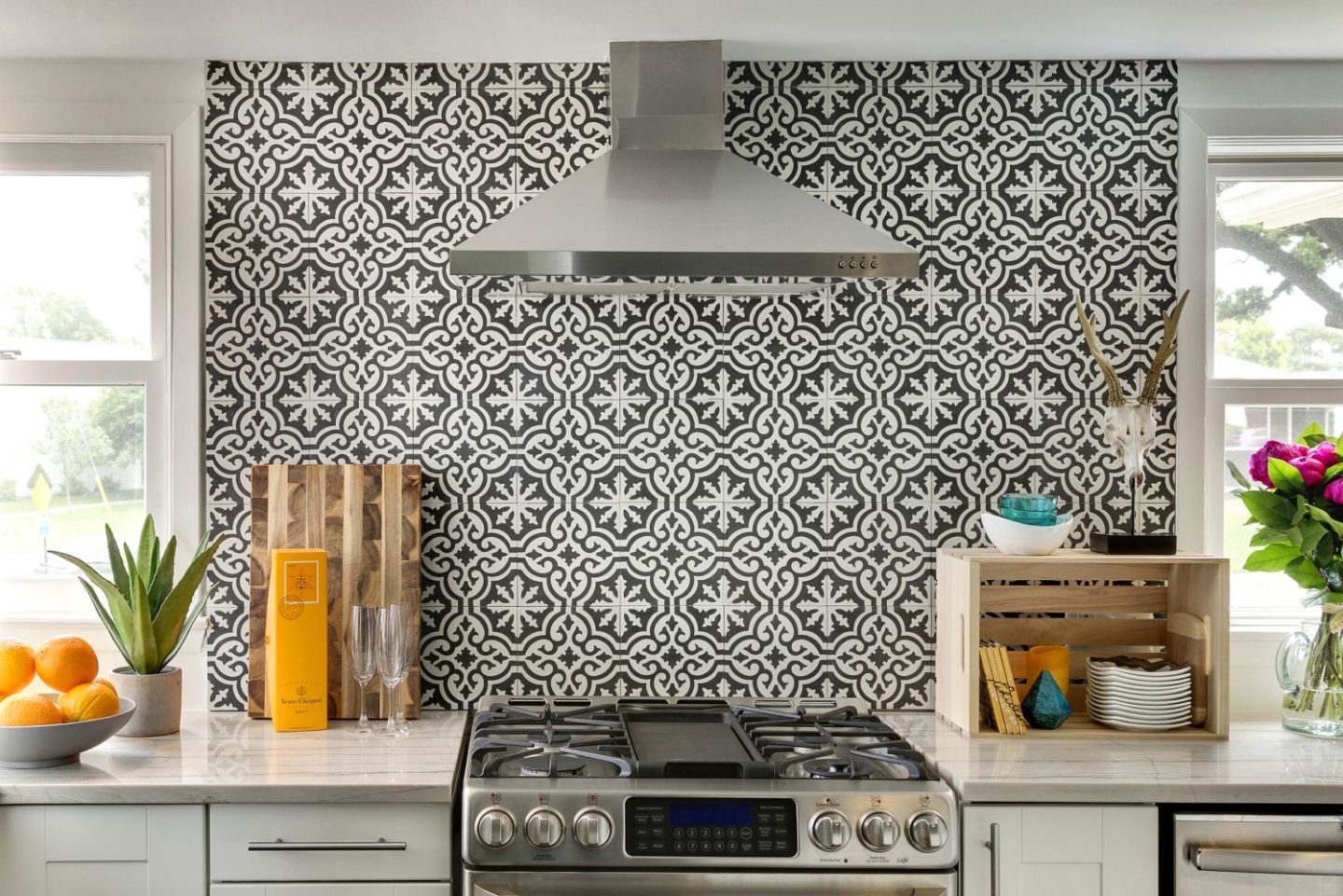 Also can be used as fireplace tile!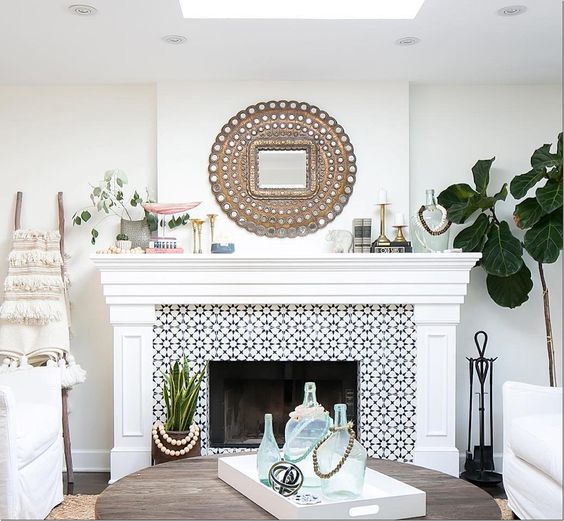 I think the tiles are popular because they go well with all styles – traditional through modern!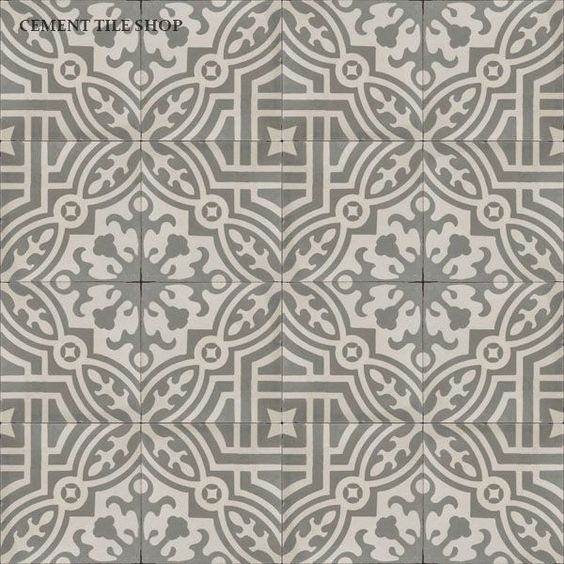 Prominent tile manufacturers – Ann Sacks, Bedrosians, Cement Tile Shop,
There are many cost-effective alternatives that will give you the look.  Check out Home Depot, Overstock, Tilebar and Wayfair.  There are porcelain tiles that look very similar to the cement tiles – and frankly, I think if you are going to use them in a shower or as a backsplash, the porcelain tiles are a better alternative as there is less maintenance!
Also, thought I would include at the end of Friday Favorites info about sales every weekend. Affiliate links are used – when you click I will earn a few cents but it does not affect you. It helps me keep the blog running!
This weekend's sales:
Barneys: Take an extra 25% off select designer styles for women and men. Valid through 2/8-2/13.
Moda Operandi: Take 20% off sale. Valid through 2/12.
Madewell: Enjoy 20% Off select items for the Galentine's event. Valid through 2/13/18.
Saks Fifth Avenue: ONLINE ONLY! Spend $250-$499, get a $35 gift card. Spend $500-$999, get a $75 gift card. Spend $1000-$1999, get a $150 gift card. Spend $2000-$2999, get a $450 gift card. Spend $3000+, get a $700 gift card. Valid 2/7-2/9.
Old Navy: Take up to 20% off your order with code SWEET. Valid through 2/11.
SaveSave
SaveSaveSaveSaveSaveSave