I recently found this cute velvet picture frame made of velvet and metal thread. It reminded me a lot of the antique velvet picture frames. The problem with the antique velvet frames is that most of them have faded or have damage.
The nice thing about this new one I found is that it is in perfect condition!
Let's take a closer look at the details… It is real velvet with silver covered copper threads. So yes, it will tarnish over time.
excuse the poor photoshopping; I am internet shy and don't want my face everywhere!
It's hard to find new picture frames that are made of such quality. When I saw it I knew that I had to take it home with me!
It reminded me a lot of the old velvet picture frames… let me share. This beautiful French picture frame is made with velvet. It contains a painted picture as photography hadn't quite caught on yet!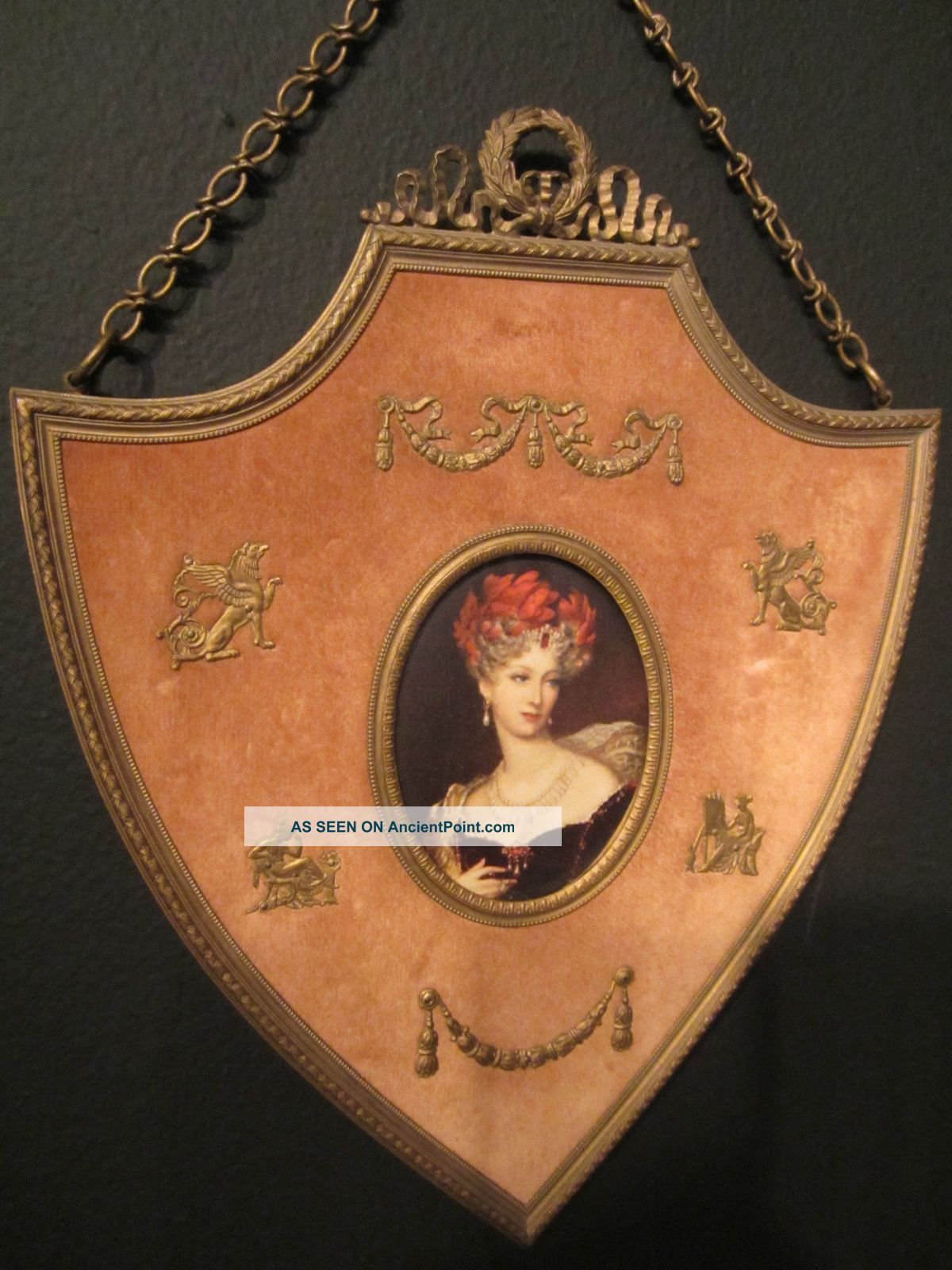 1800s French velvet ormalu frame source
When photos became accessible to the "mainstream" thanks to Kodak in the 1880s, people wanted to display their pictures. Remember though, that pictures were still really expensive to take. An expensive picture needs an expensive frame!
1800s hand embroidered photo frame source
Then came along the fancy photo albums from the Victorian era. Check out this one below… You fold it down to reveal a whole book! It's interesting how much the velvet has faded over time.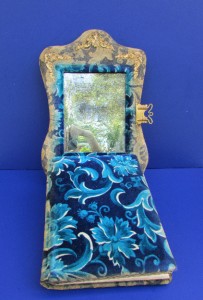 look at how it faded! source
Here's the photo album opened: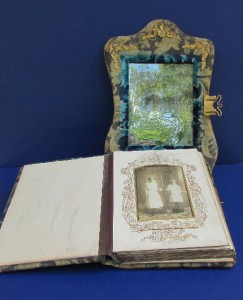 how cool is that?
A pair of velvet French frames from the Napoleon era…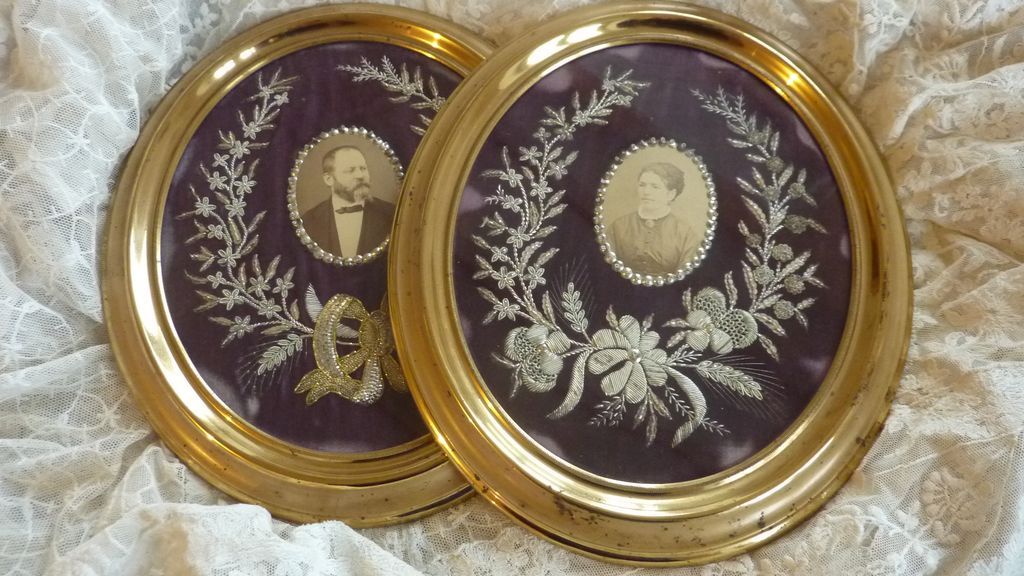 Napoleon era French embroidered frames source
I like the metal on this velvet frame…
19th century French velvet frame source
I like the beading on this velvet frame. What's unusual is how little damage there is to the velvet.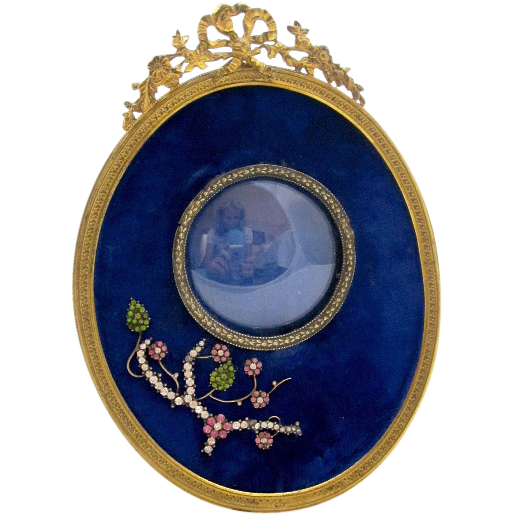 1800s French velvet frame source
Now, this is a clutch below. But it reminded me a lot of the picture frame as it is a velvet clutch with silver thread!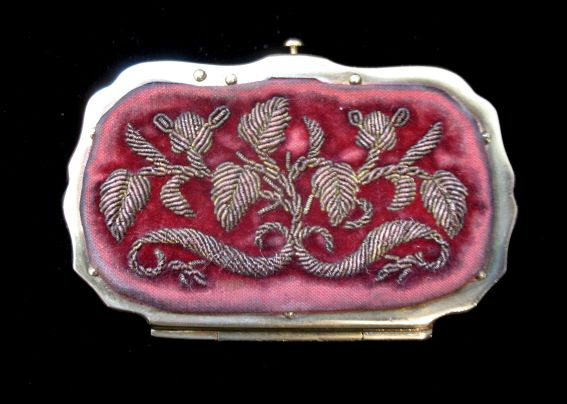 1850s Napoleon era velvet French coin purse source
… Then I got side tracked. The company for the picture source below takes old embroidery and turns it into pillows! I love this metal embroidery!!
old metal embroidery tapestry turned into a pillow source
The thistles on my picture frame remind me a little bit of Queen Elizabeth's coronation gown. On the right you can see some thistles, representing Scotland.
the thistles on my picture frame are reminiscent of the Queen's coronation gown source
The metal thread also reminds me of some of this handiwork:
Ottoman period silver and gold thread source
While trying to find pictures of velvet picture frames I ran into this wonderful hand embroidered metal thread sheep on velvet! How cute!!
sheep
And then I found this wonderful embroidered Eagle!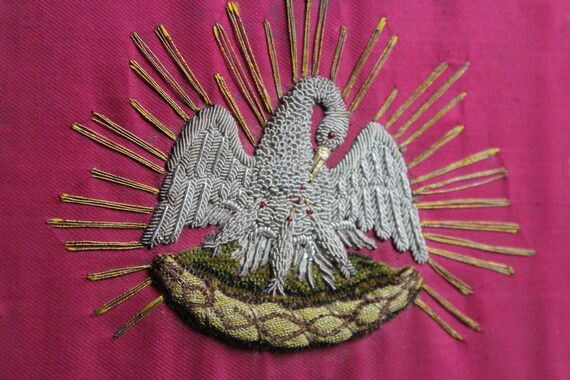 Eagle
Well, I got a little side tracked at the end with the eagle and sheep. But, I love my new picture frame!!
Written at http://peoniesandorangeblossoms.blogspot.com
Linking up with these fabulous link parties: The Scoop!, Inspire Me Tuesday,Do Tell Tuesday Wow us Wednesdays! What's it Wednesdays, Creative Ways, Treasure Hunt Thursday, Home Sweet Home , Feathered Nest Fridays,