Based on my reader survey, a lot of you wanted some more decor and room boards. So, here ya go! Also, a lot of you wanted a Facebook page for my blog, so I made one! You can follow my *new* FACEBOOK page here! See readers? You ask, I deliver! I also sent out a monthly newsletter like many said they wanted as well, hope you enjoyed it!
This post may contain affiliate links. See my disclosure policy.
I saw this French bistro outdoor dining set and loved it! I am on the look out for French outdoor tables and chairs since we are building a French Farmhouse. For my outdoor furniture, I was debating between French farm table vs French bistro table. As I have the French farmhouse table as my main dining table already, I was leaning towards the French bistro look outside.
Ok, so anyway, back to the picture. I saw this picture in Williams-Sonoma Home magazine and fell in love! I really like the all black bistro chairs. But then I started adding up the individual elements and wow!! I thought, with a little searching I bet I could find the same look for less! Let's see…
WS Home Look:
WS Parisian Dining table $3495
Williams Sonoma chair $350
WS Greek Key Pillow $79
WS Outdoor rug 6×9 $395
WS hurricane vase, $69
Outdoor 10′ umbrella, $495
Total (with four chairs): $9033!!
Parisian Bistro Style Look:
Parisian Table, Deal $1395
Mini bistro table, Steal perfect for small yards! $129
French Bistro black and white $159 // chair number two $209 // all black wooden French bistro chair set of two $260
Steal Greek Key Pillow $34
Outdoor rug with pattern , 6×9 $133
Hurricane Vase, $29
Outdoor 9′ umbrella, $110
Outdoor 7′ umbrella ($79) for smaller yards
Total (with 4 of these chairs as I like them the best): $2306!
The Look for Less is $6727 cheaper! WOW! I had no idea when I was making this that it was going to be that big of a difference!
For small yards, the mini bistro table, two chairs, and smaller umbrella the total cost is = $722, so the price difference from the magazine look is… $8311 cheaper.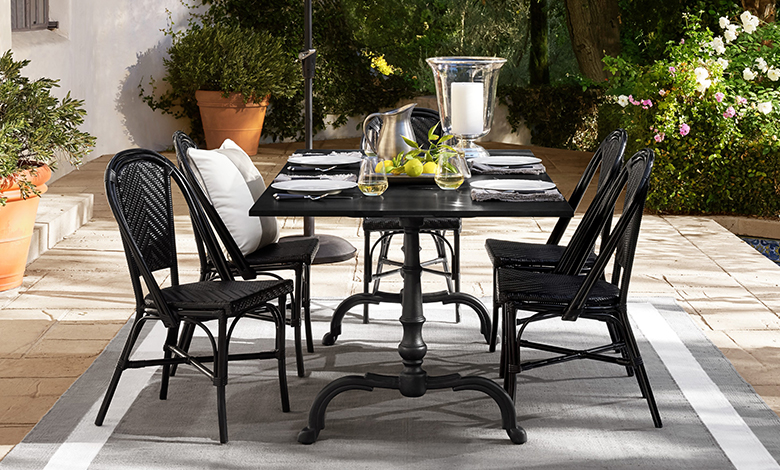 Well, I had fun putting together this post! It goes to show that you can start with an inspiration photo and end with the look for a lot less! I style like the all black chairs better though – nothing a little paint can't fix!
Are you following Peonies & Orange Blossoms on social media? Join the community…
pinterest || instagram || Facebook || bloglovin || tumblr || twitter || google plus
linking up at: amaze me monday The Scoop! Make it Pretty Monday BNOTP Mon Inspire Me Tuesday Cooking and Crafting with J&J Wow us Wednesdays! Lehman Lane Moonlight and Mason Jars Share Your Style Thursday Favorite Things, Creative Circle, Thoughts of Home Home Sweet Home Feathered Nest Fridays The DIY collective Craftberry Bush Foodie Friday & Everything Else Shabbylicious Friday Best of the Weekend Share it One More Time Sundays at Home Dishing it and Digging It
Written at http://peoniesandorangeblossoms.blogspot.com/