I'm excited today because I am finally sharing the first room in my house with you all!  Today I am sharing my favorite room – the French country Chinoiserie powder room.  I am sharing this room first for two reasons – one, it is my favorite, and two, it is clean on photoshoot day! I'm still putting Christmas decor away!
If you have been following the blog for a while, you know that we built our dream French country home. We moved in last November.  I have shared some Christmas home tours but I have not yet shared specific rooms in the house.  I'm still hanging pictures and busy decorating other parts of the house – they are not ready for the unveil!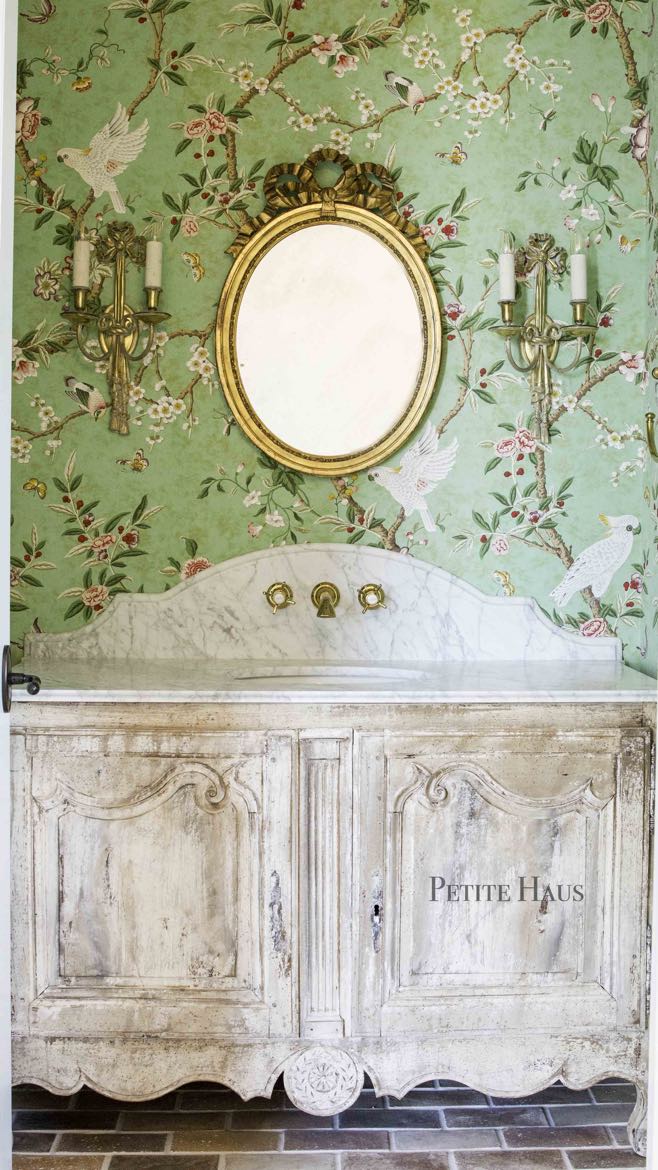 I knew for this powder room I wanted to have it wallpapered.  I also didn't want it to become too formal.  I felt that with the brick floors and the chippy antique piece, it would provide the right amount of "country" to this elegant powder room.
It took me some time to settle on a wallpaper pattern.  I love Chinoiserie papers but didn't know if I would be bold enough to go that way.  I considered toiles and other floral patterns as well.   I eventually found the perfect paper and settled on the green color way.  I have written several posts about Chinoiserie wallpaper: chic chinoiserie wallpapers and chinoiserie wallpaper for less.  These were kind of my research posts! So I went with my gut and chose this paper! I was nervous how the husband would like it – turns out he loves it too!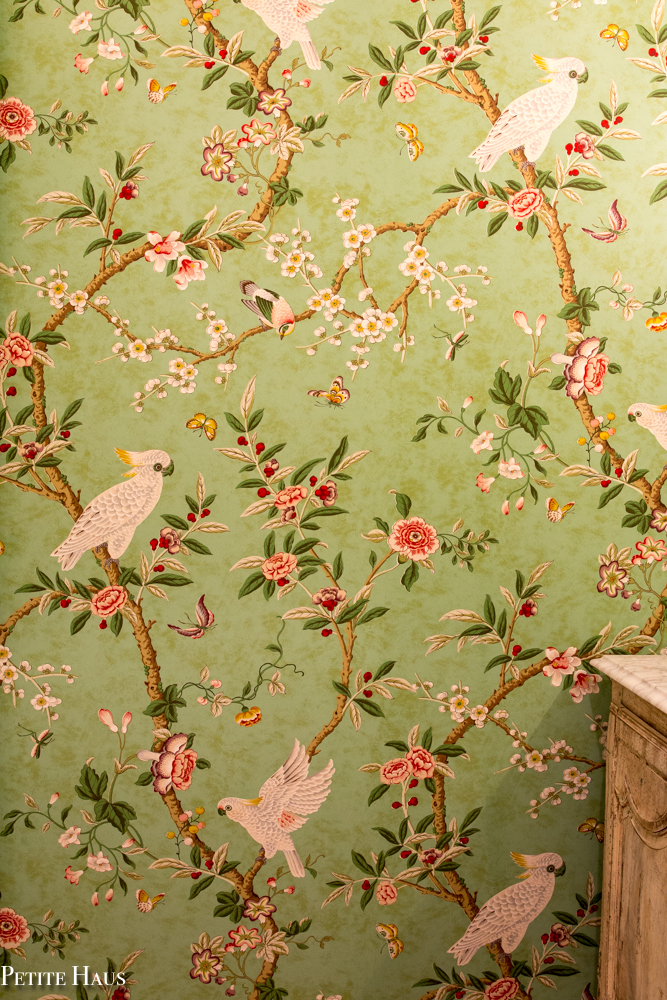 The wallpaper I chose is Kanchou Wave by Brunschwig and Fils. I adore the white birds on it!  The green goes well with the brick floors too!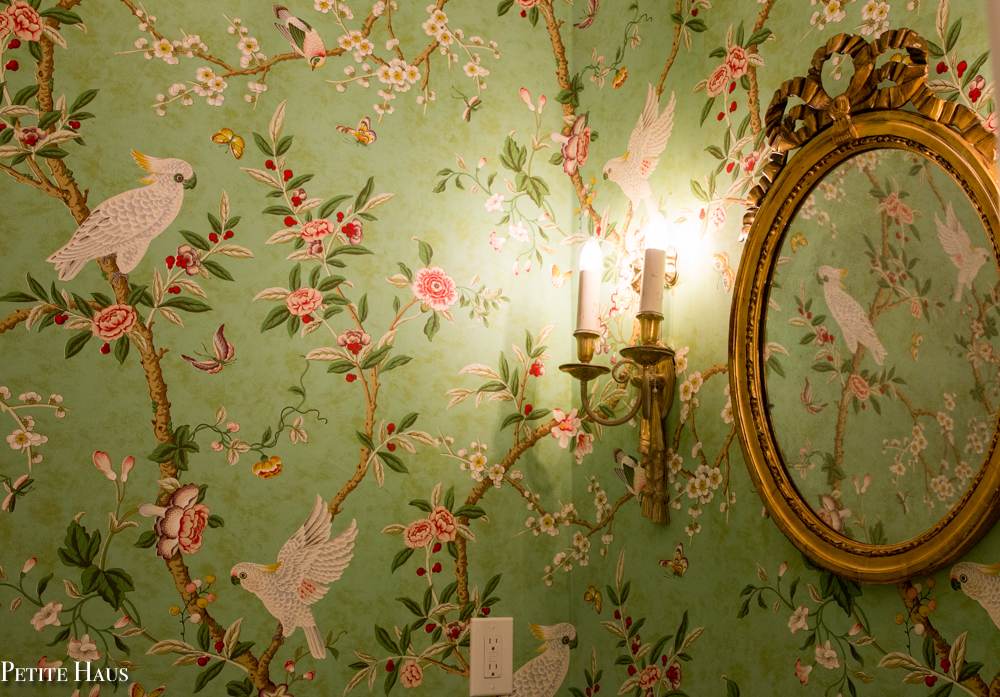 I love the vintage French wall sconces.  They were painted a powder French blue but I decided to strip them down to the brass as I felt that the brass went with the wallpaper better.  I found them at a local antique store over a year ago and had been saving them before we even had our house built!
Then a year later at that same antique store, we found this little French mirror! I love the ribbon details on the mirror and the sconces.  I wanted a small mirror because I didn't want to hide the pretty paper!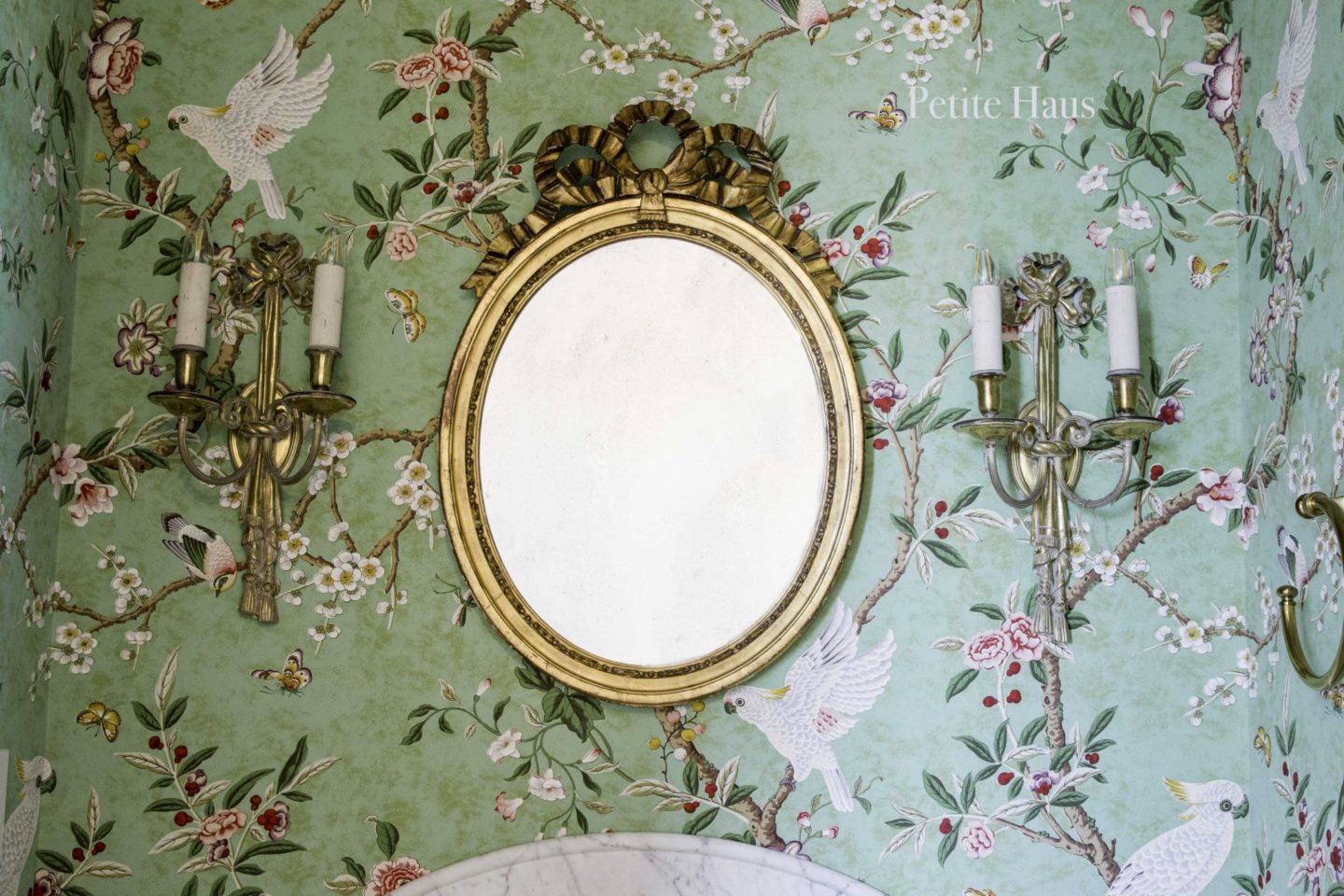 I had my heart set on a wall mounted faucet.  I always thought they seemed so chic.  When designing a house, you need to know your fixtures (at least the wall mounted ones!) before you end up with the finished product.  We purchased these before the framing of the house, so that way we knew exactly where to place the pipe.  I am still amazed we got this spot on, centered where I wanted them, considering we were just measuring off of a pile of dirt a year ago! (Yes, it was a year ago, almost to the day…)
As it turns out, installing wall mounted faucets is much more difficult than what meets the eye, which makes me appreciate them even more.
This is the only room where I went with the "trendy" brass fixtures.  They don't seem so trendy when paired with the antique pieces!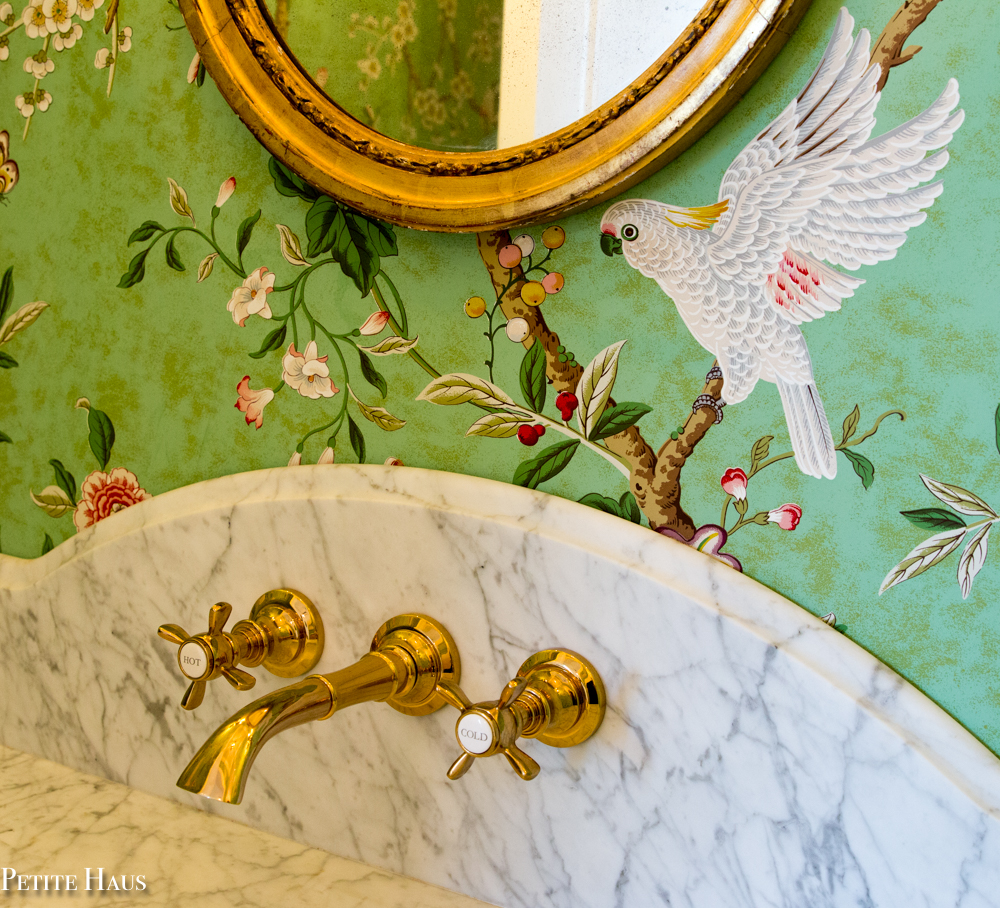 The backsplash was designed by my mom and me.  The marble guys said, "we'll do whatever you want".  Uh, great? Now I've gotta come up with a pattern. So we doodled for hours on scratch paper templates and came up with this.
The cabinet is 1800s French antique.  We did cut the wooden top off of it and had marble countertops placed on top.  I knew I wanted to use an antique cabinet for the vanity in this room.  It took quite sometime finding the perfect piece – at the right height!  Turns out many antique French cabinets are much too tall for vanity height.  I love the carving on the bottom of the piece and the carving on the doors.  We did not do anything to the finish on the wood – this is "as is".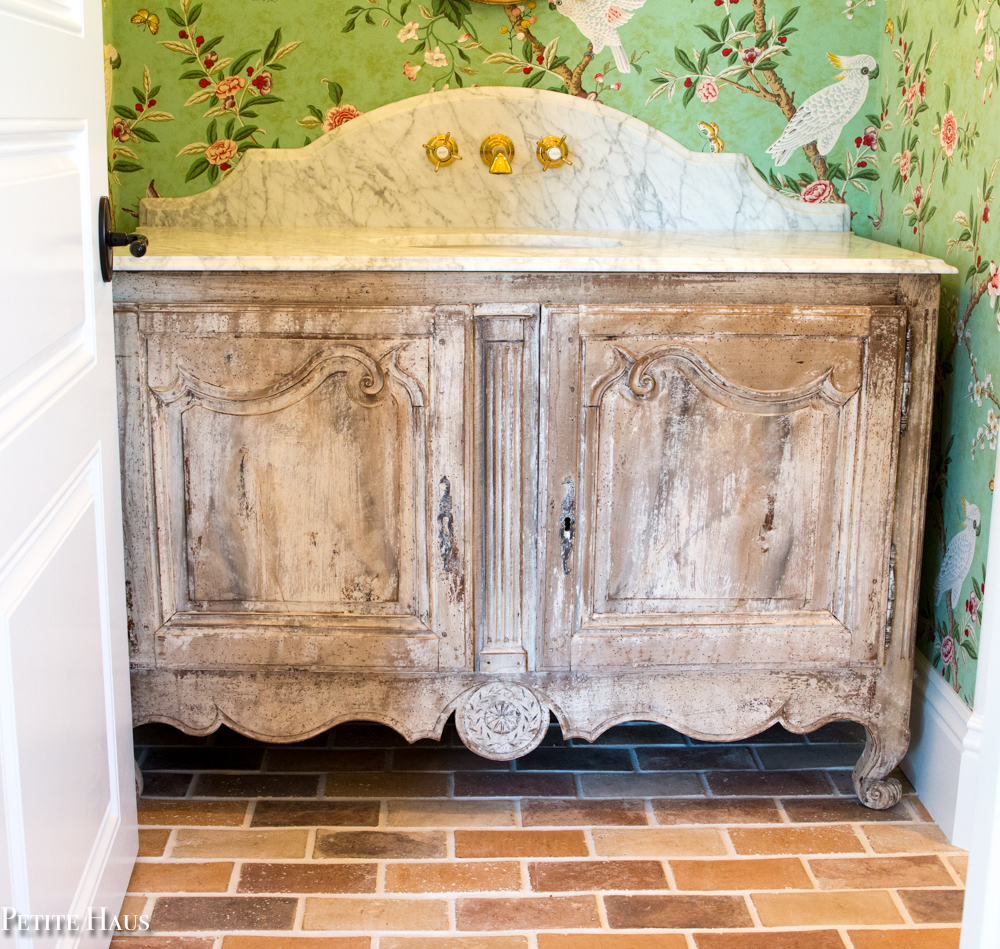 Oh yes, the toilet is to the right under an arch, but who wants to see a toilet? Not me – and that's also why this room is designed this way! You can peek in and see a chic little room with the toilet hidden to the right.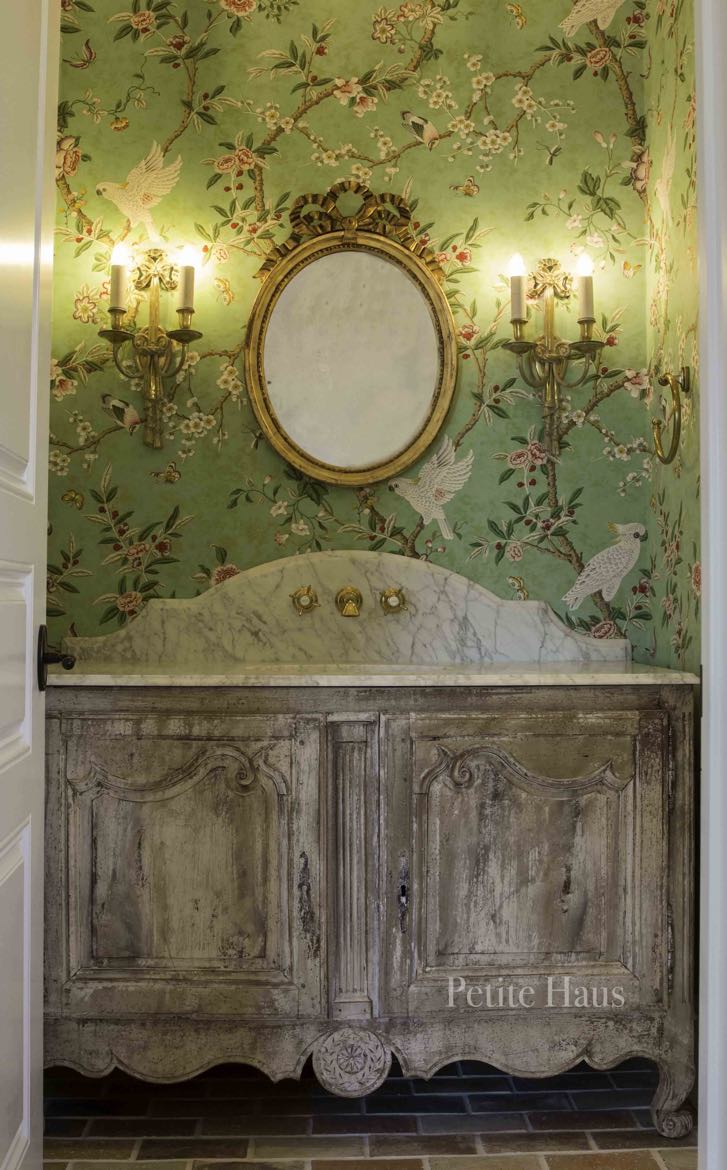 I hope you enjoyed my French country chinoiserie powder room as much as I do!
Sources –
Wallpaper – Brunschwig & Fils "Kanchou wave"
Flooring – Arto Brick
Brass towel holder and faucet – Restoration Hardware
Sconces and mirror – antique
French vanity – antique
Marble – honed Carrara marble
Door and baseboard paint – Benjamin Moore Chantilly Lace
SaveSaveSaveSave
SaveSaveSaveSaveSaveSave
SaveSave