We all have our own dream kitchens in our head – but I am lucky enough that I was able to build mine!  I'm going to go through the process of building and designing our dream kitchen today.
So, let's start with this question that I had to answer: What would YOU do if you could build your dream kitchen?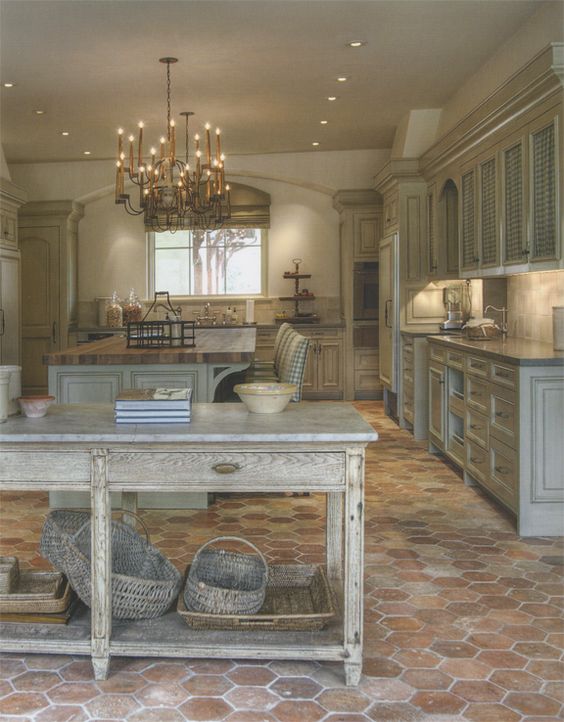 Image from Segreto Secrets
First, my husband and I made a list of what we wanted in a kitchen.  Then we asked friends and family of what they would want.
We studied design magazines. We studied Pinterest. We studied Houzz.  We went and toured the brand new expensive houses being built in Southern California. We took pictures, and more pictures, and more pictures! Tons of Pinterest boards and Houzz boards. Hours of studying.  Years of planning! Seriously, years!
We decided on an eventual layout after we were inspired by this kitchen that we toured in SoCal.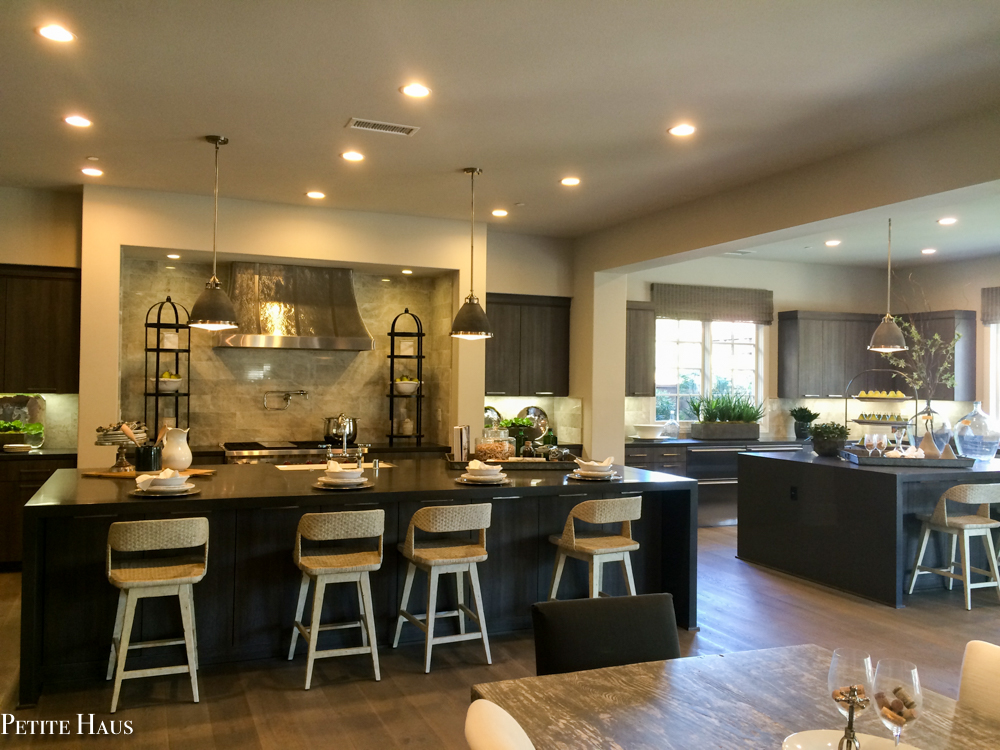 We walked through this kitchen and loved the feel of it. Loved the two huge islands.  Now this is dreaming, we thought!
We did not do a huge refrigerator wall, but you get the idea.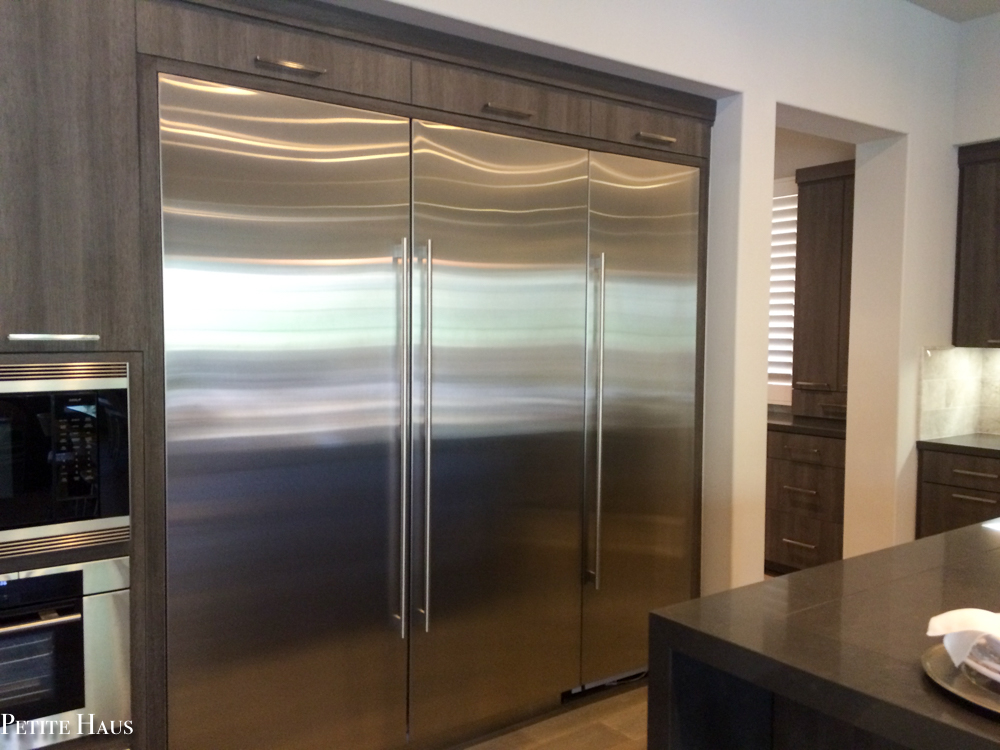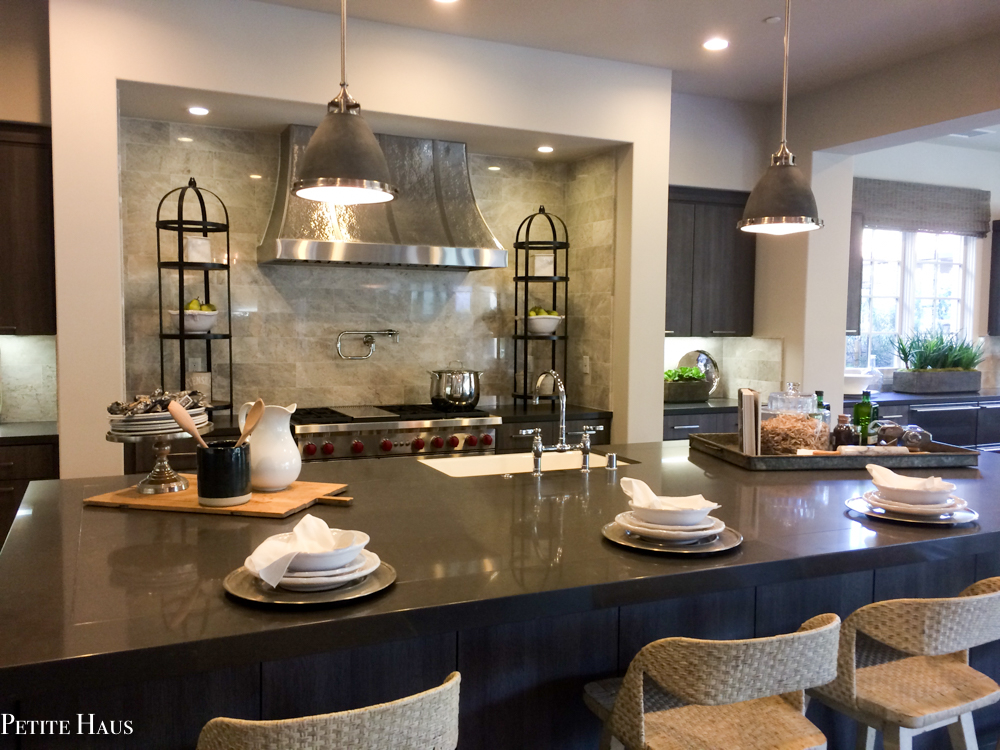 The other cool part about this kitchen was the right wall opened up with Nano doors.  Total California living!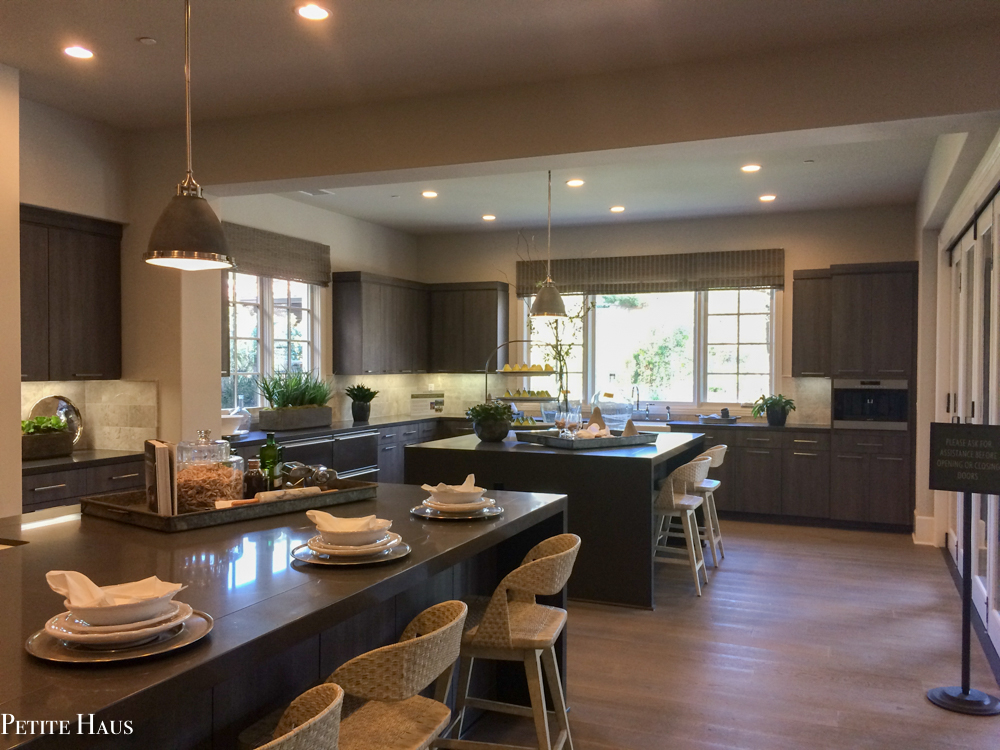 One of the first things we did when designing our house was to actually pick our kitchen appliances first.  This was one of the smartest things we did – that way we knew exactly what our electrical and gas requirements were from the get go.
We then built the kitchen around exactly which appliances we were picking.
Even though it is our dream kitchen, you can't have *everything* you dream about.  You have to make compromises.
I will say, I am not in any way complaining about my kitchen. But I was dying over having this range. Um, but it is the price of a small luxury car! Okay, never mind!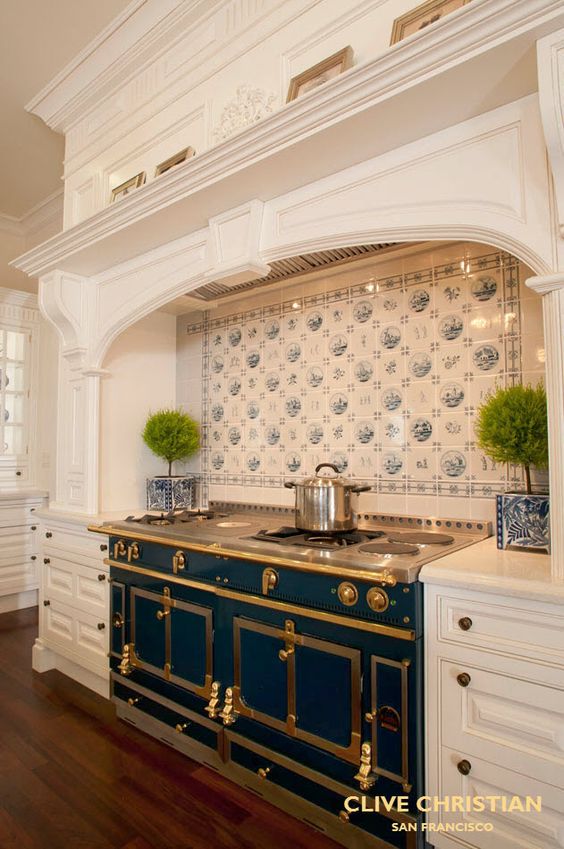 Image from Clive Christian Interiors
Sharing a few progress pictures from last year. Below is what will become the wall with the range.  This was taken about a year ago.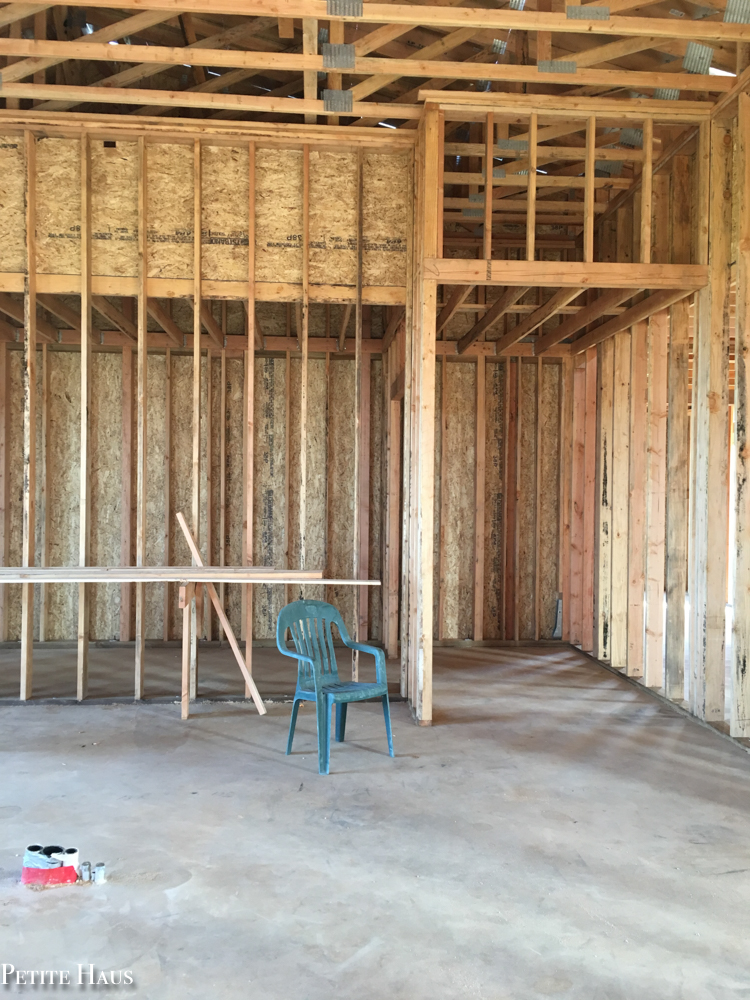 Next was choosing what type of cabinets.  The shaker cabinets are so incredibly popular right now, but I thought they were too boring for this big of a kitchen.  Open shelving vs not?  I almost went with open shelving in some parts of the kitchen, but then remembered that I hate dusting so went with some glass cabinets instead.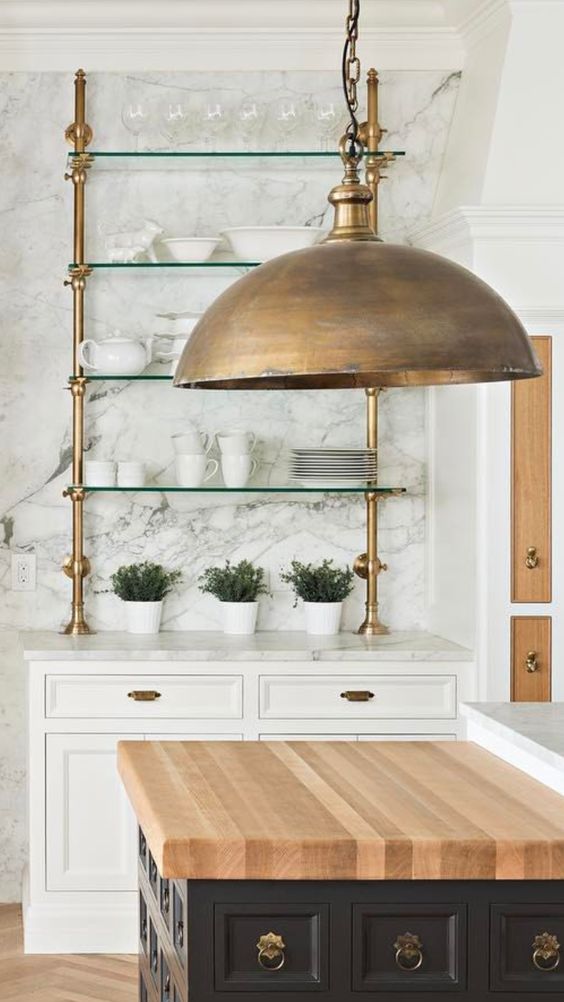 I went with a raised panel door on the right. The right one we were playing with staining but decided against it.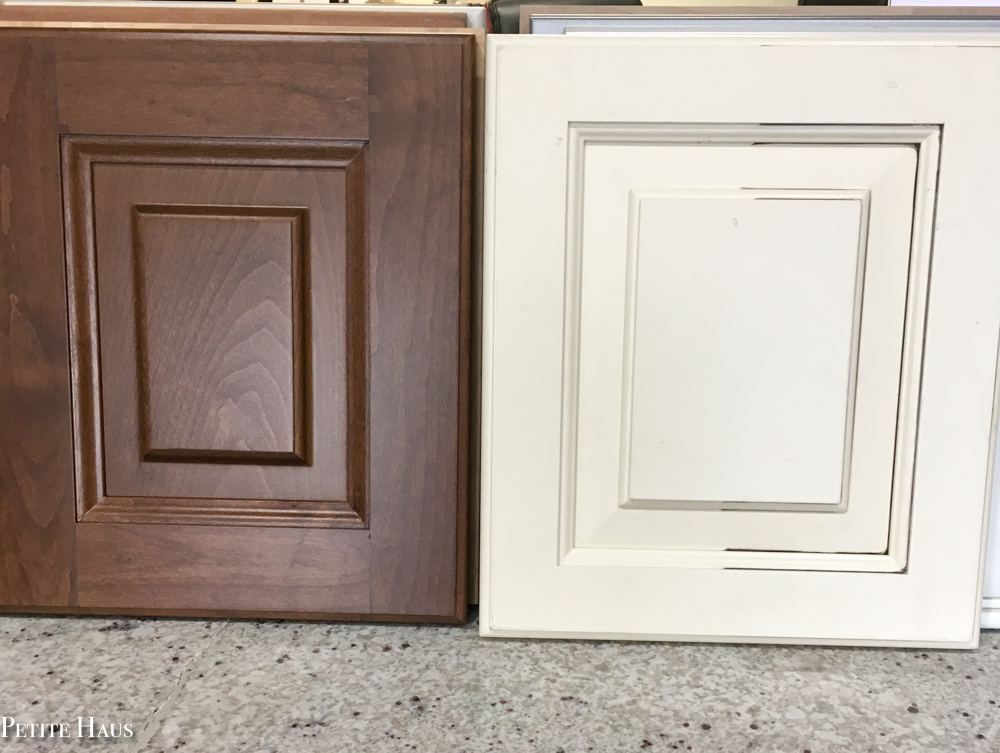 Next came the actual cabinet design, as to where do you want your trash, where do you want to put your spices?  Hours and hours were spent thinking about this.  I knew I wanted a mantel over the range a la Kris Jenner of the Kardashians so I could put a pretty garland on it below!  I see my teapot on her range!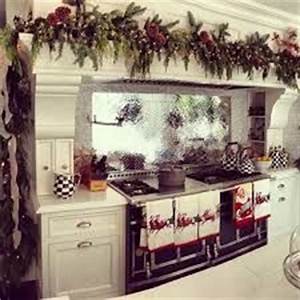 Now as for the countertops – I always knew I wanted marble, just like pastry counters in Europe! Calacatta marble was our initial thought – then we saw the price.  So we went with an extra white Carrara. Got the look for the fraction of the price.  Considered some marble alternatives also, but I knew I would always know it wasn't the marble I dreamed of. Below, one of the many marble slabs we looked at. It is a Statuary marble.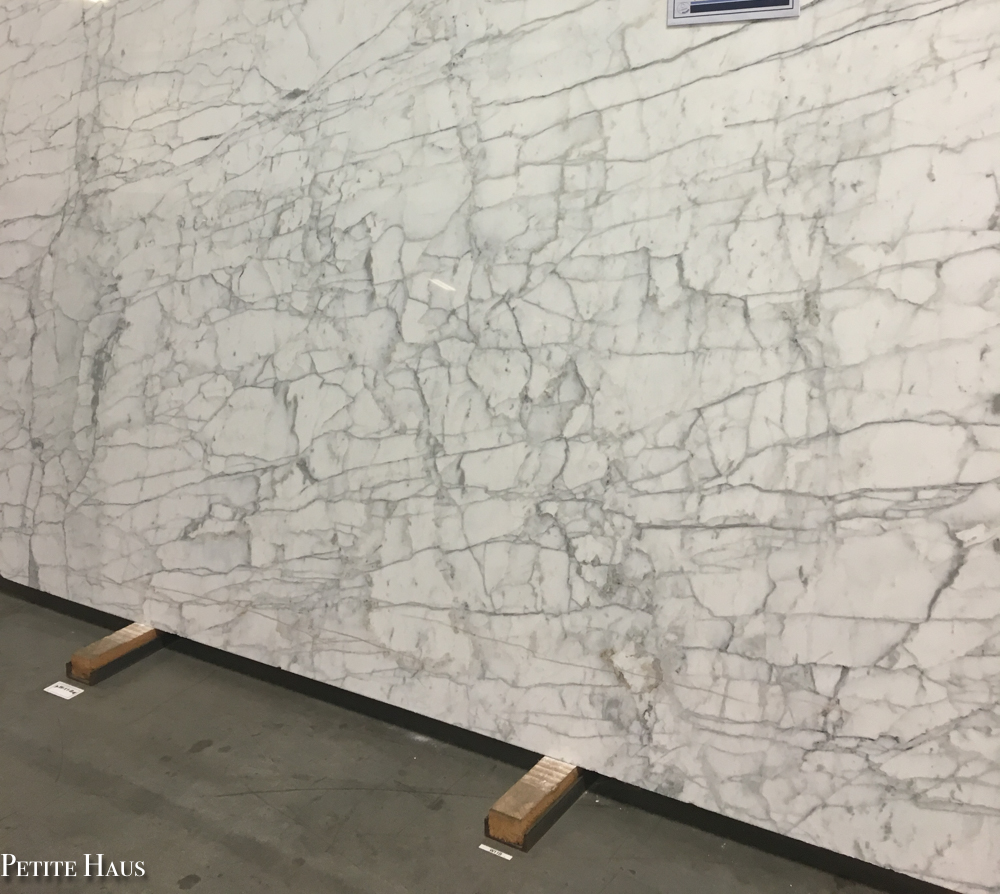 I had heard about all of the negatives of marble – yeah yeah, don't care.  Most of the problems with marble occur with the polished marble.  We went with a honed marble.  Yes, we have had a few scratches and citrus etching since we moved in.  The first mark bothered me. Now it doesn't.  The house is supposed to feel French Country… uh, have you seen the patina in French country kitchens? 
Next up, paint colors for the cabinets.  What an angst producing dilemma.  Eventually settled on white (ha, now what shade of white? THAT is the question!) An extra bright, one that would not make the Carrara look grey! Went with a French grey/blue for the islands.  All white would feel too sterile in here.   Below, one of my inspirational kitchens.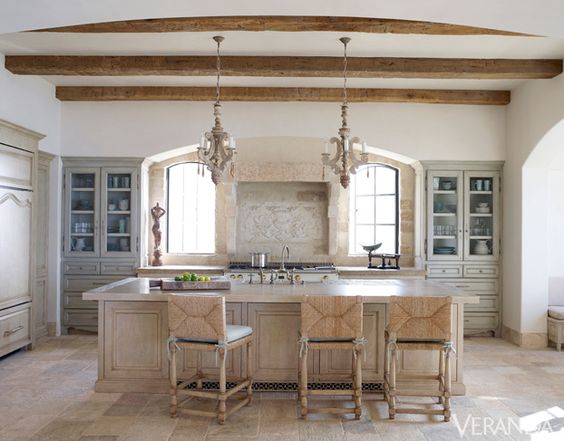 I like the white because we are out on the country – adds to the classic the farmhouse feel. Did consider Martha Stewart green, other greiges, even black (briefly!), wood colored. Really wanted Cerused oak like below, but no one in the area could figure out how to make it.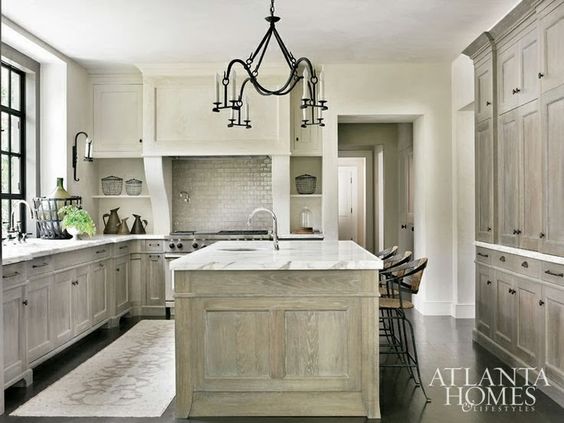 Below, the "main" part of our kitchen in progress.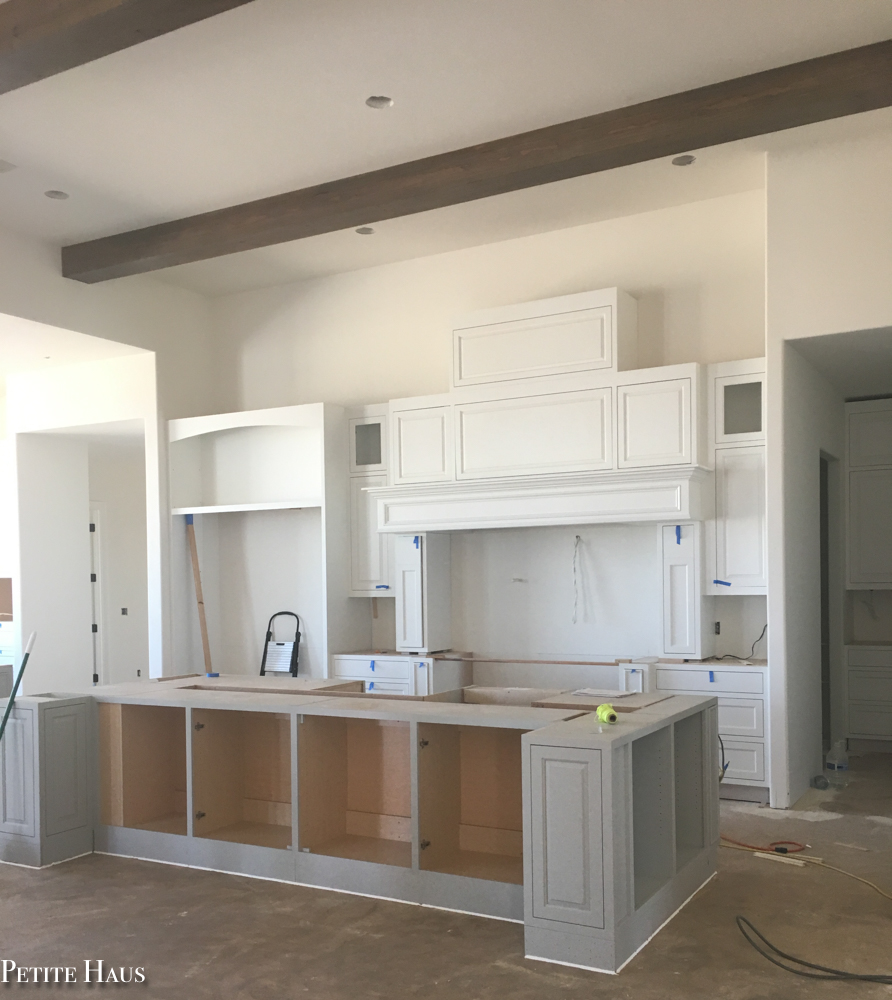 Below, the "baking" part of the kitchen aka my side of the kitchen.  I can't scramble an egg but I can whip up a meringue!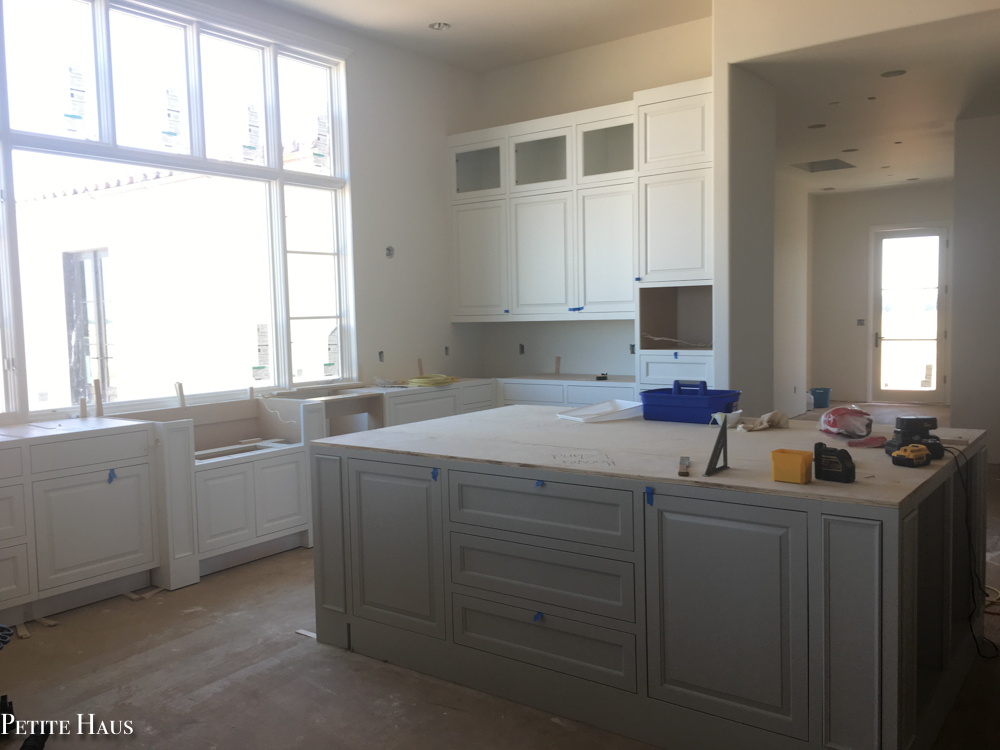 Tired of this post yet? Should I make a second post? Nah, let's power through.
Some of the backsplash ideas… This is more of the fun parts of the design process, in my opinion!
Waterjet is so beautiful.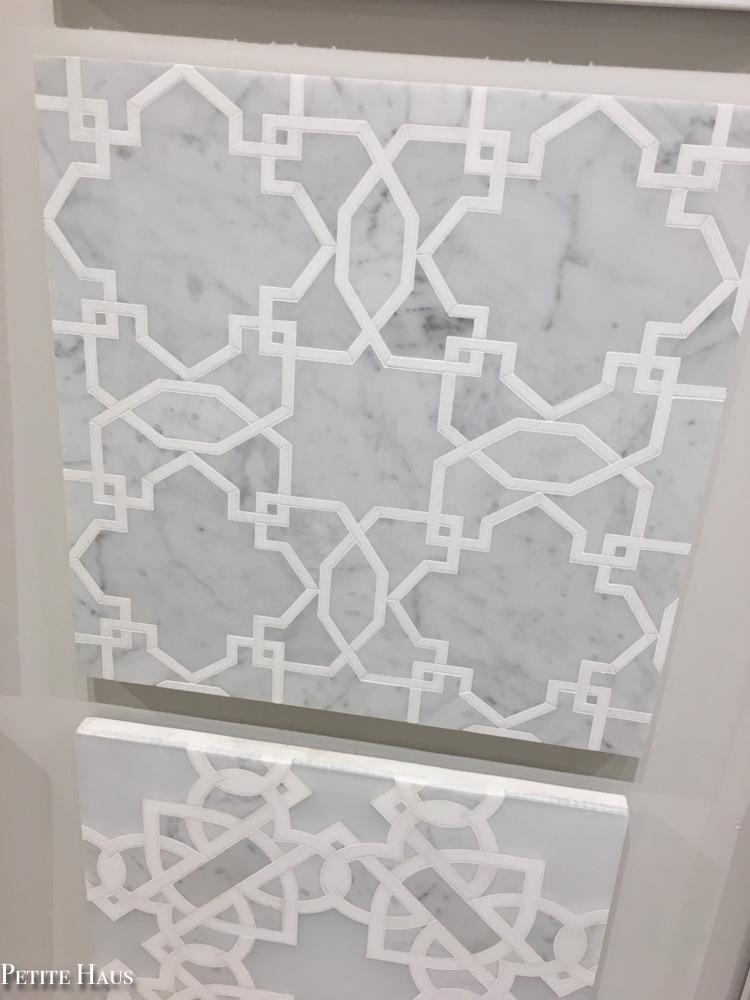 My DREAM backsplash… you would die at the price per sq ft. But it is beautiful!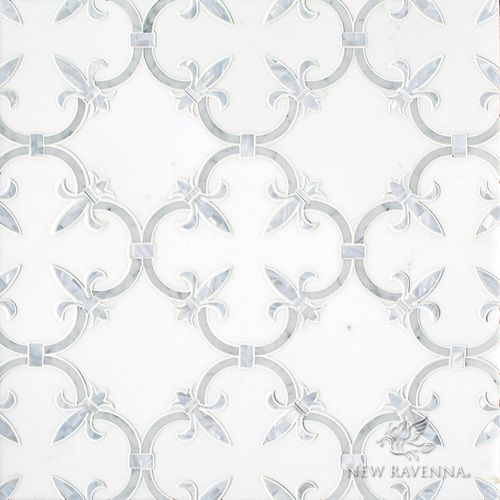 Ultimately went with the wavy marble one below behind the range which I love!  Subway marble tiles went on the rest of the backsplash areas.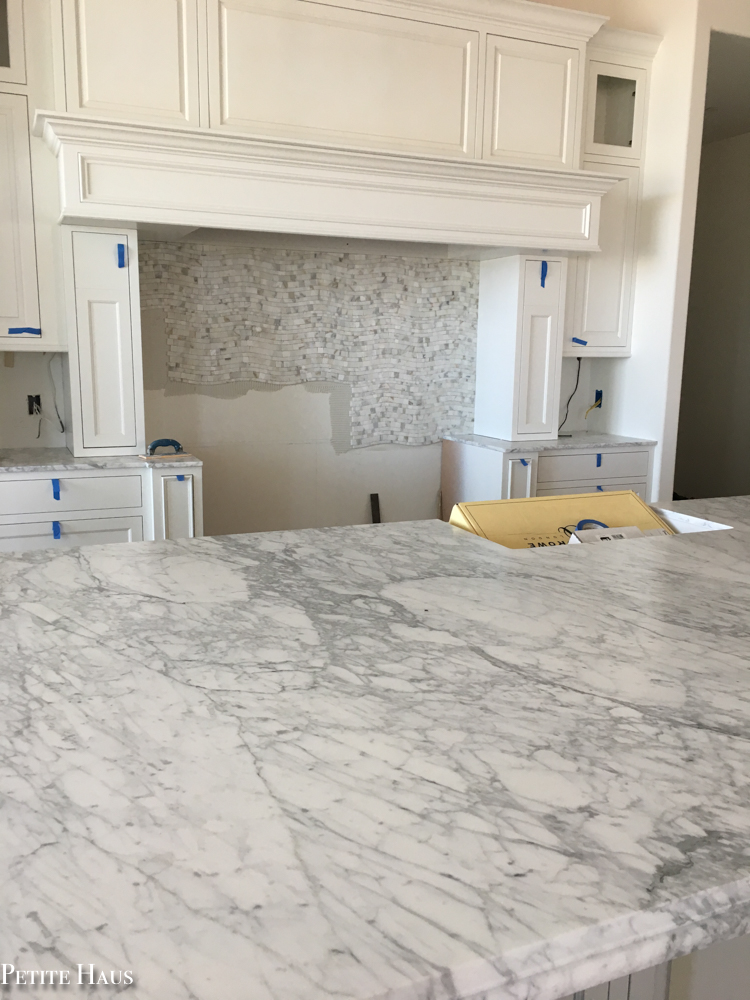 Ok, choosing our finishes.
I love the warm look of the unpolished brass right now.  However, in the back of my mind, I kind of cringe when I think of the brass of the 80s.  So we went with polished nickel. But I did love this kitchen from Christopher Peacock that I wrote about here.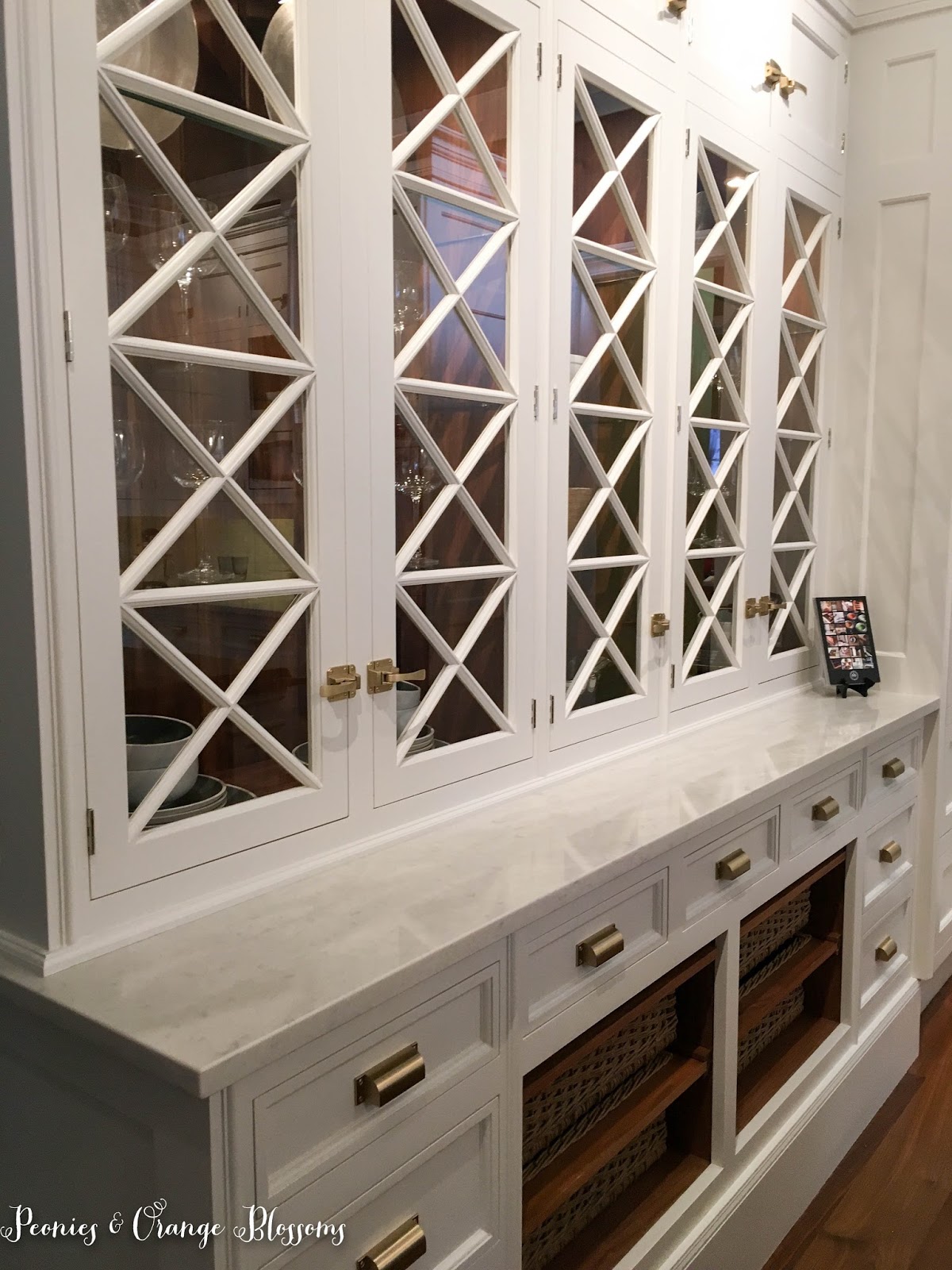 I was considering the ribbon and reed pulls and knobs, but ultimately chose something else.  I recommend going into the hardware store and actually feeling the pulls and knobs.  Don't just buy it online without feeling it first as you may end up disappointed!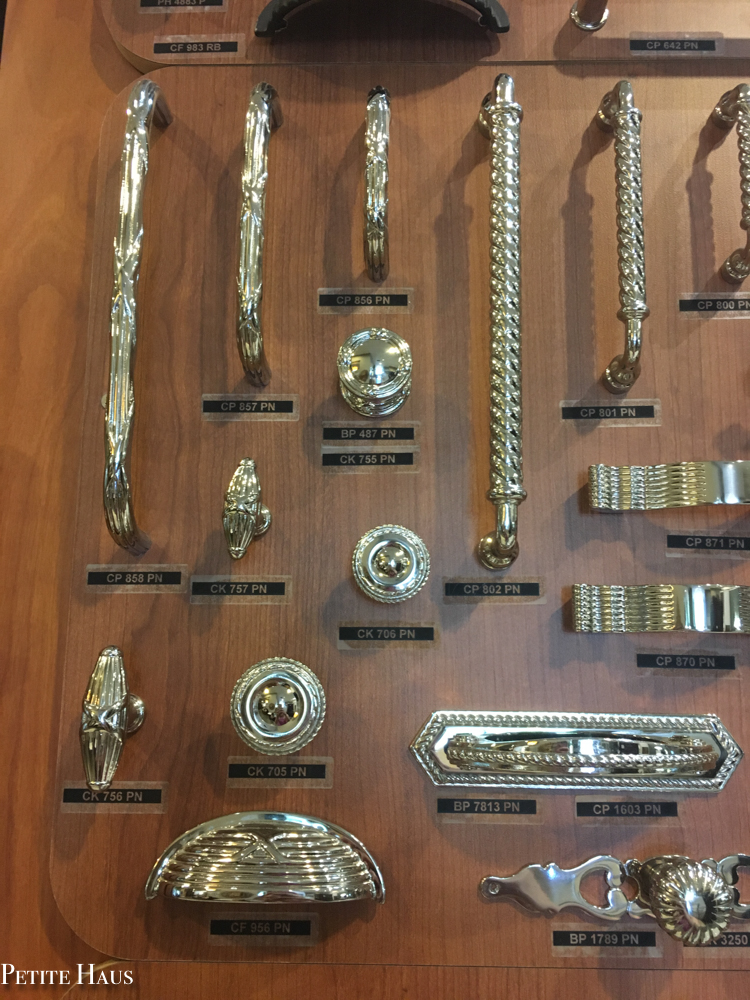 Okay, so what does our kitchen look like now??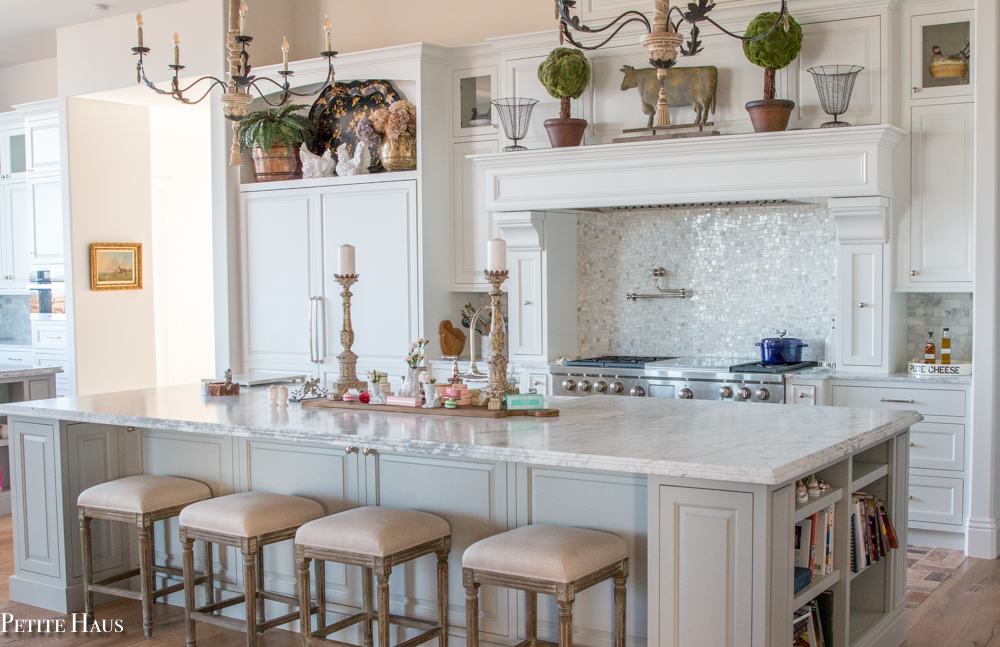 Yes, it's big.  A bit of an understatement.  However, we host parties and are able to cook for and accommodate a lot of people!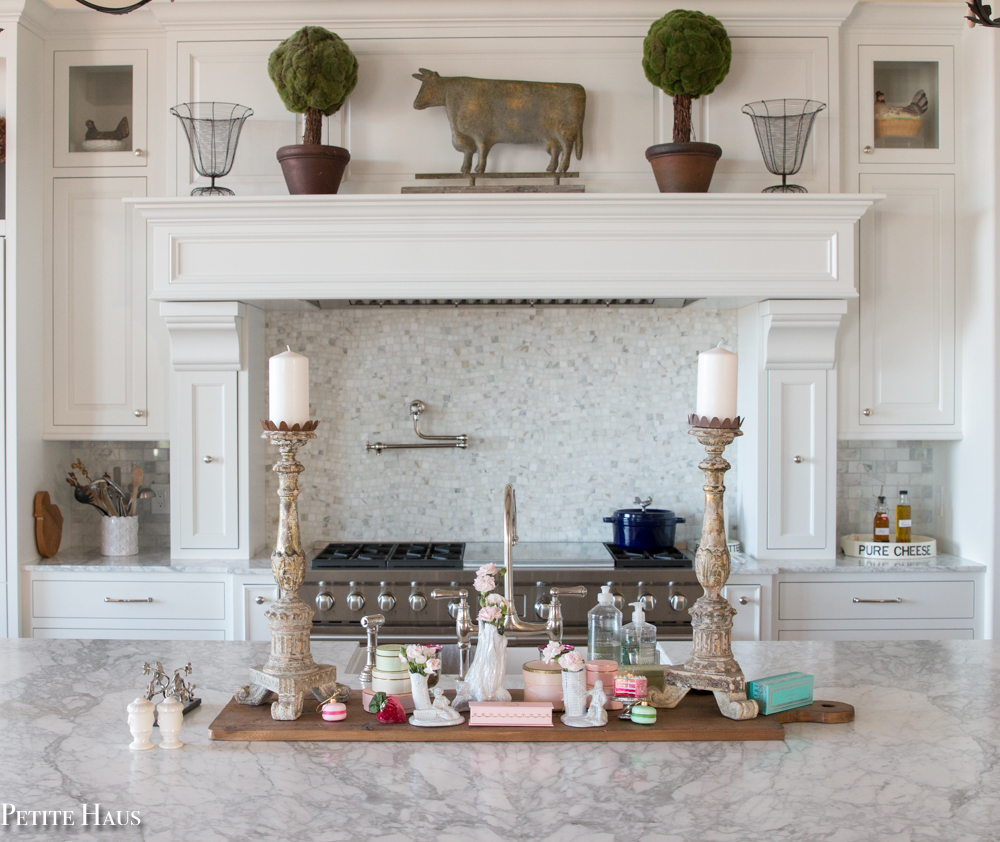 Below you can see a better look at our baking kitchen and the "regular" kitchen.  We joke – his and hers!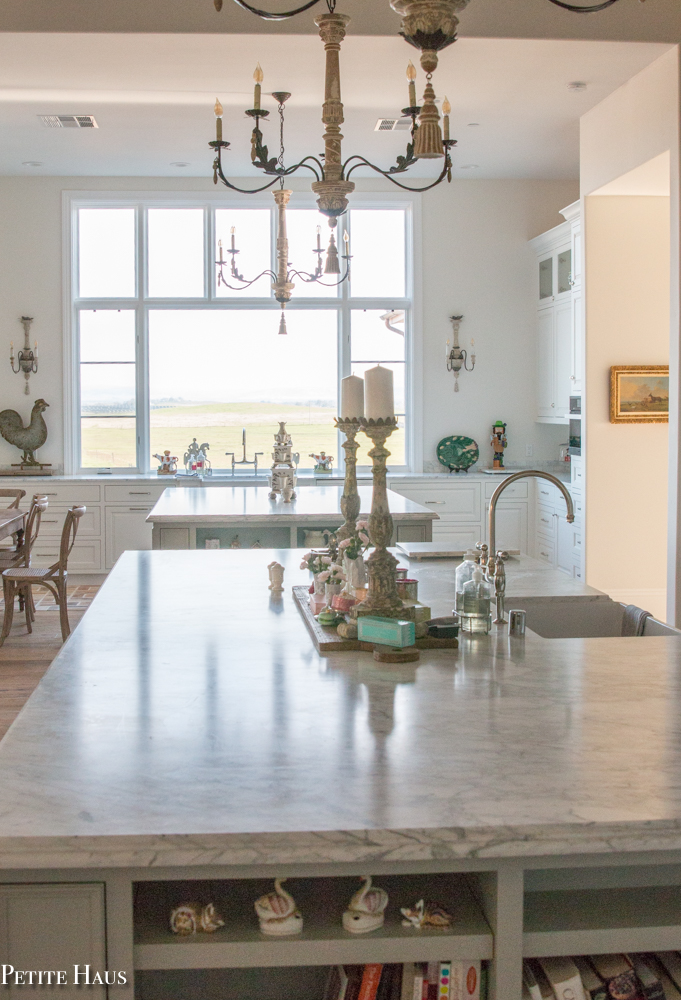 The baking kitchen below.  The marble is fantastic for rolling the dough on!
And that is the shortened story behind our dream kitchen.  We love our kitchen and couldn't be happier. Thank you all for following along.  I'll do some more posts on our kitchen about details and more pictures!
SaveSaveSaveSaveSaveSaveSaveSave
SaveSave
SaveSaveSaveSaveSaveSave
SaveSaveSaveSave